When folks showed up for the annual Meet the FAA forum at Sun 'n Fun, they had no idea they would be part of a special tribute. After FAA Administrator Randy Babbitt spoke, Sun 'n Fun officials took over the podium and presented a tribute to Paul Poberezny, founder of the Experimental Aircraft Association, and a long-time Sun 'n Fun volunteer.
The tribute was supposed to happen Thursday evening, but was cancelled due to the tornado that roared through the grounds, so unbeknownst to most at Sun 'n Fun — including Poberezny — Thursday was declared "Paul Poberezny Day" in Lakeland, with a proclamation from Lakeland Mayor Gow Fields.
Friday's tribute saw many of GA's leaders taking turns at the podium to share special memories of Poberezny and thank him for his impact on general aviation.
"It's an honor for me to celebrate somebody who has had such positive impact on aviation," said Babbitt, who noted he also had the distinct pleasure of presenting Poberezny with the Wright Brothers Master Pilot Award, which recognizes 50 years of incident-free flying. "That was one of the high points of my career."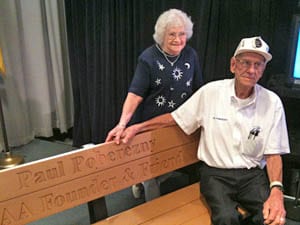 Craig Fuller, who met Poberezny in 2008 after taking over as president of the Aircraft Owners and Pilots Association, noted that he was quite familiar with Poberezny's name as somebody who encouraged and inspired people to fly, but he was especially touched when the first words the EAA founder said to him were: "Let's work together."
"That meant the world to me," Fuller said. "Paul's legacy is of someone with a big idea, who knew that if we could come together as a community and stand together, we would all be stronger."
The presidents of the General Aviation Manufacturers Association and Women in Aviation International also gave tributes to Poberezny and his wife, Audrey, before Sun 'n Fun Chairman Bill Eickhoff took the stage to present several gifts, including personalized Sun 'n Fun hats and jackets. He also presented the couple with a framed tree root, representing the hard work both Paul and Audrey put in in the infancy of Sun 'n Fun as volunteers to prepare the grounds for the fly-in. The frame also included volunteer pins ranging from five years to 35 years for the couple.
Sun 'n Fun officials also presented the Pobereznys with two benches — which will remain on the Sun 'n Fun grounds outside the administrative offices — that say Audrey Poberezny, First Lady of EAA, and Paul Poberezny, EAA Founder and Friend.
Poberzny, who didn't know about the presentation before it began, thanked everyone who has been a part of his and Audrey's lives.
"It's easy when you love people," he said. "Because of EAA Audrey and I became millionaires — we have a million friends and that's something that money can't buy."