An officer asks you to look at the man on the left and right of yourself. "Only two of you will become pilots. Of those two, one of you will be killed before your tour of duty is up. That will leave only one of you standing. Are you sure you still want to become pilots?" These words marked the beginning of Bud Willis' career in flight school and created a setting for which Willis tells all in his new book, "Marble Mountain: A Vietnam Memoir."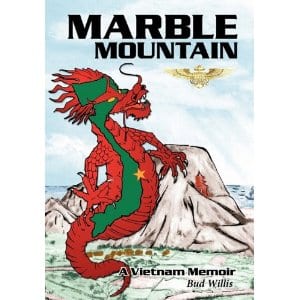 Willis was newly married with a two-week-old son when he left to go to war at the age of 24. Stationed at Marble Mountain Air Facility in 1965 as a U.S. Naval Aviator, Willis started to put his thoughts and experiences on paper. His letters home were lighthearted details about a soldier's life overseas, but his journal unveiled the gore of combat and emotions that a soldier would manage privately.
"Marble Mountain: A Vietnam Memoir" is a collection of Willis' journals that, after 45 years, give Americans a front-line perspective on the Vietnam War.
"My greatest writing challenge was the obvious disconnect between the 24-year-old pilot in the stories and the 68-year-old writer trying to craft them into perspective," says Willis. "I chose to be true to the experience and trust the words as I wrote them back in 1966."
This coming-of-age story of a small group of Marine Huey pilots who were caught between compassion for the troops and the complicated drama of global politics shows the human side of combat. Willis explains what goes on in a young man's mind when he knows he is being asked to give up all he has for his country.
Published by AuthorHouse, the book is available for $18 softcover, $21 hardcover. Purchase at Amazon.com, Barnesandnoble.com and Budwillis.com.