"Winging It! Pioneer Alaskan Aviator" by Jack Jefford is the newest addition to the "Caribou Classics" series from Alaska Northwest Books.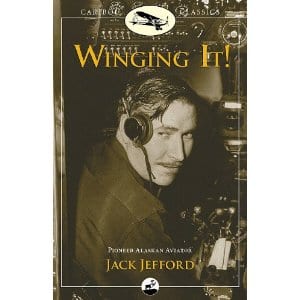 Jefford shares stories of his gripping rescues, white-knuckle crackups, and wild adventures that come from flying the not always friendly skies of Alaska. Arriving in the Territory of Alaska in 1937, he started flying from the gold rush town of Nome for Hans Mirow. At the urging of his daughter, this early Alaska pilot decided to share his flying stories with aviation fans the world over.
From the updated Foreword by Carmen Jefford Fisher, Anchorage, Alaska, 2011: "I always loved hearing my father tell stories of his flying adventures — tales of a time when few landings were normal, weather information and navigational equipment were sketchy, on-the-spot repairs were sometimes a necessity, and any patch of open ground might be used as a runway. Resourcefulness and daring were part of a pilot's job description."
"My father was sometimes called 'Father of the Airways' due to his position as chief pilot for the CAA (later the FAA) in Alaska from 1940 to 1972. The airplane is still Alaska's lifeline, and he was a trailblazer for the sophisticated flight aids we enjoy today."
"Winging It! was created over a five-year period as Dad told his stories onto 18 tapes. My husband Mark and I transcribed, organized, and edited the stories into book form, with additional help from the late Cliff Cernick, then Public Information Officer for the FAA's Alaska Region."
This new Caribou Classics is published by Alaska Northwest Books, an imprint of Graphic Arts Books. It is available at Amazon.com and other book sellers.