Dennis Maxwell's new book, "The Great Eclipse," about Eclipse Aerospace and its Very Light Jet, has been released.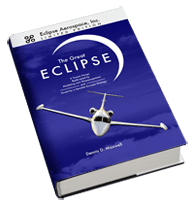 Maxwell's non-fiction book follows Eclipse Aerospace as it powers through the easy money time of the internet bubble, tumbles on technology and crashes in the global economic crisis. He then tells how the assets of the company were plucked from the bankruptcy court and the newly formed Eclipse Aerospace took flight on a quest to return the jet to long-term production.
All pre-orders have been filled and were mailed to readers who took advantage of the pre-release purchase option, company officials said.
To take a peek inside of The Great Eclipse, click here. To order it, click here.
For more information:  EclipseAerospace.net