Three student teams from Embry-Riddle's Daytona Beach campus recently took first, second, and third place in the Runway Safety/Runway Incursions Challenge category of the 2010-2011 Design Competition for Universities sponsored by the FAA.
The annual event, now in its fifth year, tasks undergraduate and graduate students at U.S. colleges in designing solutions for technical challenges in airport infrastructure and operations. The competition requires students to reach out to airport operators and industry experts to advise them and help them assess the efficacy of their proposed solutions. Representatives of the FAA, industry, and academia select the winning proposals, and teams with promising designs may receive FAA funding to take their concepts to the next stage of development.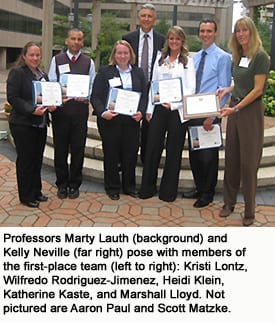 Embry-Riddle's first-place team submitted a design titled Tactile Stimulation System that proposes the development and installation of aviation-grade rumble strips on taxiways near runway intersections to alert pilots that they are about to enter a potentially dangerous area. The student team members were Katherine Kaste, Heidi Klein, Marshall Lloyd, Kristi Lontz, Scott Matzke, Aaron Paul, and Wilfredo Rodriguez-Jimenez.
The notification letter sent to Embry-Riddle stated, "The panel was impressed with the students' proficiency in the development of a simple design to help increase situational awareness and felt they provided an impressive package in support of their concept."
The second-place team's design, titled Runway Incursion Prevention Lighting System (RIPLS), uses an in-pavement lighting system at hold-short lines supported by a user-centered interface for air traffic managers, to provide for safe entry for aircraft and ground vehicles across active runways. The student team members were Erik Schmidt, Casey Smith, Nicholas Stapleton, Tammy Strauss, Glenn Surpris, Anna Vitalis, Travis Wiltshire, David Yacht, and Zhengzhong Yu.
The third-place team's design, titled EyePort, offers controllers, pilots, and airport personnel anytime, anywhere access to the existing technologies and information sources that support air operations. The student team members were Daniel Antolos, William Dructor, Augusto Espinosa, Jolie Gascon, Abigail Gaston, Jerry Gordon, Joshua Hagar, and Maggie Hart.
All three Embry-Riddle teams developed their design projects as part of a graduate human factors course taught by Dr. Kelly Neville, associate professor of human factors and systems. Dr. Neville and Marty Lauth, assistant professor of air traffic management, served as advisors to the teams. The teams had to learn about airport operations in order to identify a specific challenge to address, draw on engineering principles and tools to develop a feasible solution, and work as a team to produce a technical proposal describing their solution and the work behind it.
In order to win the FAA Design Competition, teams are required to reach out to and learn from industry experts. The operations staff at the Daytona Beach International Airport, led by John Murray, shared their time and expertise with all three Embry-Riddle teams. The teams' interactions with these airport operations personnel gave them a strong advantage over competing teams and also helped them come up with feasible and useful designs, university officials said.
"I felt each group did an outstanding job, and it appears the FAA agreed with me," said Lauth. "Once again this reaffirms the caliber of our students and the motivation they display for future aviation endeavors."
The first-place Embry-Riddle team received a $2,500 prize from the FAA and presented their design at the Summer Workshop Series held by the FAA, the Transportation Security Administration, and the Airport Consultants Council from July 13-14, in Arlington, Va. The award plaque for the university was also presented at that time.
The Design Competition for Universities is administered by the FAA Office of Runway Safety and is managed by the Virginia Space Grant Consortium for the FAA. The prize-winning proposals can be viewed at the competition website
Embry-Riddle Aeronautical University, the world's largest, fully accredited university specializing in aviation and aerospace, offers more than 30 undergraduate and graduate degree programs in its colleges of Arts and Sciences, Aviation, Business, and Engineering. Embry-Riddle educates students at residential campuses in Prescott, Ariz., and Daytona Beach, Fla., through the Worldwide Campus at more than 150 locations in the United States, Europe, Asia, Canada, and the Middle East, and through online learning. For more information: EmbryRiddle.edu