Aviation headset manufacturer Sennheiser will once again host the Flying Musicians Association each day at the Sennheiser Pavilion during this week's AirVenture, in Oshkosh. The Flying Musicians — which include the popular pilot, motivational speaker and musician Ravi — will perform each day between 11 a.m. and 1 p.m.
Following is a complete schedule of performances to occur at the Sennheiser Pavilion between Monday, July 25, and Friday, July 20: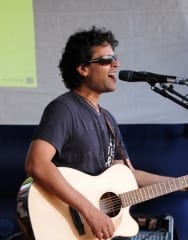 Those who stop by the Sennheiser tent also will be able to experience demonstrations of Sennheiser's upcoming Flight Planning App. Sennheiser Aviation has partnered with iFlightPlanner.com to offer pilots in the USA a mobile flight planning experience that takes advantage of the versatility of web-based flight planning and the portability of mobile devices in the cockpit.
Sennheiser will also have its latest general aviation and commercial aviation headsets on hand for demonstration, including the HMEC 460, the HMEC 26 and other models including the new S1 Digital, which is making its debut at the show.
For more information: Sennheiser-Aviation.com