On Wednesday, a group of World War II Navy veterans will have the opportunity to visit the powerful memorials dedicated to their honor in Washington, D.C., on an Honor Flight that leaves Oshkosh bright and early in the morning.
EAA, Southwest Airlines, and Old Glory Honor Flight Inc. have joined to give the veterans the Honor Flight as part of "Navy Day" festivities at the week-long AirVenture.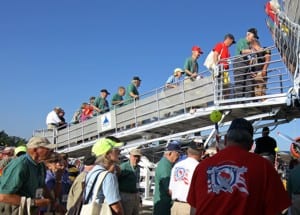 A Southwest Airlines 737 will fly approximately 80 World War II veterans who served in the U.S. Navy from the AirVenture grounds to Washington, D.C. After a reception greeting them at Baltimore-Washington International Airport, the veterans will be taken on a day-long tour of memorials honoring the sacrifices they made preserving freedom. Those stops will include the World War II Memorial, Iwo Jima Memorial, and the National Naval Museum.
"We at Old Glory Honor Flight are very excited to have the opportunity to honor the World War II veterans of Northeast Wisconsin at AirVenture 2011," said Drew MacDonald, Old Glory Honor Flight president. "With the generous support of EAA and Southwest Airlines, we are planning a very special tour for our heroes that is a perfect fit with AirVenture's celebration of the 100th anniversary of naval aviation."
The Old Glory Honor Flight veterans will return to AirVenture shortly after 6 p.m. on Wednesday, and receive a welcome home reception that many did not receive more than 60 years ago.
"The Old Glory Honor Flight at AirVenture in 2010 was memorable experience for all involved, which we hope to match and surpass as we pay tribute to very deserving Navy veterans," said Tom Poberezny, EAA and AirVenture chairman.
For more information on the Old Glory Honor Flight, click here.