DAHER-SOCATA is commemorating its 100 years of continuous aircraft production with a series of activities at EAA AirVenture this week in Oshkosh.
Stéphane Mayer, newly appointed President and CEO of DAHER-SOCATA, and member of the DAHER Group executive board, symbolically stopped the centennial countdown clock at the end of a news conference on opening day, symbolizing the opening of a new century for a company that started its aircraft manufacturing activities as Aeroplanes Morane-Saulnier in 1911.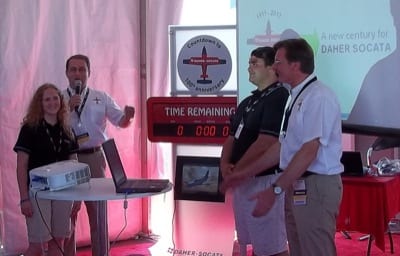 "As a long-time AirVenture participant I'm extremely pleased to be here again at Oshkosh, capital of aviation for a week, to celebrate DAHER-SOCATA's entrance in its next century of aircraft production," he said.
At Oshkosh, the company is displaying a 2011 TBM 850, which carries a special paint scheme design by Didier Wolff of Happy Design Studios, to celebrate the company's 100 years in aviation. Also on display is the first retrofitted TBM 700 with the Garmin G1000, as well as a full-scale replica Type L aeroplane, one of the oldest and most famous aircraft from Morane-Saulnier.