Evektor-Aerotechnik has appointed two new distributors in the U.S. for its SportStar MAX and Harmony Light-Sport Aircraft.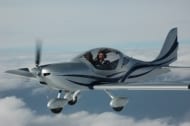 Dreams Come True Aviation in Tipp City, Ohio, represented by Steve Minnich, operates at the Dayton Wright Brothers Airport (MGY), the James M. Cox Dayton International Airport (DAY) and the Andy Barnhart Memorial Airport (2OH0). It will be Evektor's authorized sales representative and customer support center for the Middle Northern States. Besides Evektor aircraft sales, the company keeps a stock of Evektor spare parts and, through an association with Aviation Sales Inc. of Dayton, provides flight training and rentals.
Sales, marketing and customer support activities in the Northeast will be handled by AB Flight, based at Queen City Airport (XLL) in Allentown, Pa., represented by Art Tarola. Tarola runs an LSA flight training operation, is a Designated Pilot Examiner, an A&P, a Rotax heavy maintenance technician, and is also a point for re-assembly of Evektor aircraft after delivery to the U.S., according to company officials.
For more information: EvektorAircraft.com, 800-883-1897, 610-762-9909