Jet Aviation has appointed Charles F. Krugh as the new senior vice president and general manager at Jet Aviation St. Louis.
He will be responsible for the company's completions and maintenance business at the facility.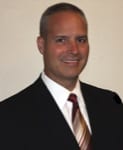 Krugh joins Jet Aviation St. Louis from Bombardier Aerospace, where he most recently served as general manager of the Wichita Service Center. A 23-year business aviation industry veteran, Krugh previously worked for Dassault Falcon Jet Corp and several independent service centers. He is an airframe and powerplant technician, and he holds a BSBA degree in computer and information systems technology. He also earned an MBA from Webster University in Little Rock, Arkansas.
Jet Aviation St. Louis is a full-service AS9110-certified aircraft maintenance, modifications and completions provider. The company employs close to 1,000 people at its St. Louis Downtown Airport (CPS) location. Jet Aviation St. Louis has in-house design and engineering departments, along with on-site cabinetry, upholstery, composite, avionics, sheet metal and paint shops. Jet Aviation St. Louis is a Bombardier and Embraer authorized service center and specializes in Dassault Falcon, Hawker and Gulfstream aircraft. The location also offers FBO services.
For more information: JetAviation.com/StLouis