"Velva Jean Learns to Fly," by Jennifer Niven, a fictional account of one WASP's experiences learning to fly, will be released Aug. 30.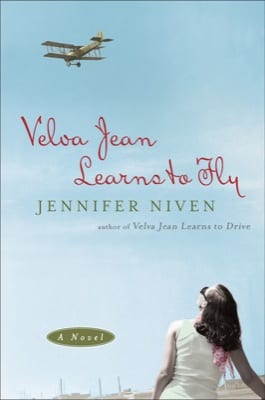 The book follows the exploits of Velva Jean Hart in Niven's first novel, Velva Jean Learns to Drive, which began with the young girl losing both parents, finding true love and risking it all by teaching herself how to leave behind her Appalachian home and unhappy marriage and, as her mama always encouraged, live her dreams "out there."
In Velva Jean Learns to Fly, the spirited and fiercely independent Velva Jean Hart escapes to Nashville to achieve her biggest desire: Singing at the Grand Ole Opry. But after the attack on Pearl Harbor, her priorities shift, and she pins her sights instead on getting her wings.
She becomes a pioneering member of the Women's Air Force Service Pilots (WASP). Unsung heroes in an extraordinary program, these brave women flew the oldest, patched-together planes — and were finally given veteran status in 1977 and awarded the Congressional Gold Medal from President Obama in 2009.
Niven is the author of The Ice Master, which was named one of the top 10 nonfiction books of the year by Entertainment Weekly and won the Gambrinus Giuseppe Mazziotti Prize in Italy. Her second book, Ada Blackjack, was a Book Sense Top Ten Pick.
The new book will sell for $15.
For more information: JenniferNiven.com, Penguin.com