Aviation Supplies & Academics, Inc. (ASA) has released its 2012 catalog.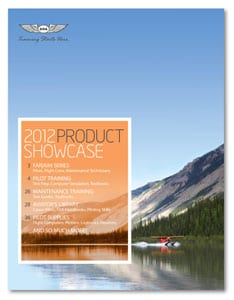 ASA's annual catalog is the company's primary tool to inform the aviation community of product descriptions, part numbers and pricing for the complete product line, company officials said. The product line consists of textbooks for pilots and aviation maintenance technicians, test preparation books and software, FAA handbooks, pilot supplies, flight simulation and tutorial software, eBooks, mobile device apps and more — over 400 products published or manufactured by ASA.
The full-color 2012 Product Showcase features several new products which are clearly marked throughout its 48 pages, company officials said, noting each product is explained in detail and accompanied by full-color images.
Go to ASA2Fly.com to request a printed catalog or download the PDF version.