Gleim has expanded its training curriculum for aviation maintenance with the addition of a new Inspection Authorization Training Course (IATC).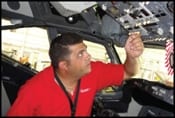 The course is designed to provide Aviation Maintenance Technicians a concise guide to one of the most difficult tests in aviation: the Inspection Authorization Knowledge Test, according to company officials. The course guides AMTs through the requirements of obtaining an IA and provides preparation on all topics necessary for certification.
"We developed this course in direct response to user feedback from many individuals," says President Dr. Irvin Gleim. "Our AMT training courses have been popular sellers since their release several years ago, and we thought that it was only a natural progression to help mechanics further their career and achieve the much-coveted IA rating."
The Inspection Authorization Training Course is $99.95 for 12 months of access.
For more information: Gleim.com/IATC to try Study Unit 1 for free.