San Jose, CA – Hilton Software's WingX Pro7 Version 6.1 now supports the iPhone to include its 3D Synthetic Vision and optional AHRS integration. Enhancements include new pinch-to-zoom and swipe-to-pitch capabilities that provide a pilot with look-around ability and a new Birds Eye View mode enabling pilots to get an expansive 3D terrain view. Support for Zaon Traffic integration, the ability to view flights in Google Earth and logbook support with AvConnect has also been included. Version 6.1 integrates Seattle Avionics's auto-router route planning.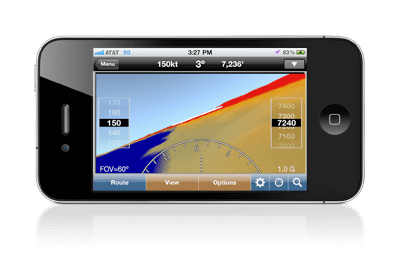 "WingX Pro7 has always been an indispensable tool for pilots," said Steve Podradchik, CEO of Seattle Avionics. "Now Hilton Software raises the bar again by enabling pilots to plan flights using WebPlan, our wind-optimized auto-routing engine all from within WingX Pro7."
Erik Murrey, CEO of AvConnect, stated, "Hilton's ability to partner with innovative companies like AvConnect sets a new standard in the industry for what's possible from the cockpit. Our integration with WingX Pro7 gives customers the easiest and most reliable way to store every flight record. Pilots' logbooks and maintenance times are instantly updated. Our Google Earth flight maps are an invaluable tool for training and flight history."
WingX Pro7 Version 6.1 is a free update for registered users and is available now for download from the App Store and iTunes. Synthetic Vision requires a separate $99 annual subscription. See company website for a complete feature list by platform. For additional information about Hilton Software LLC or its products, call 408-268-8418 or emailsupport@hiltonsoftware.com.