Sporty's has published aviation historian Phil Scott's latest book, "Then and Now: How Airplanes Got This Way," which explores how airplanes evolved into the form and silhouette we see today. It is a light-hearted look at the people and events that shaped today's general aviation airplane, company officials said.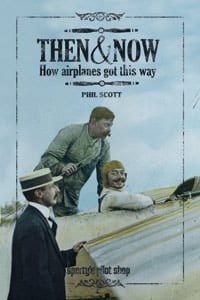 "Ever wonder why an airplane can stall with its engine running full speed? How airports developed into what they are today? Who invented rudder pedals, ailerons, the fuselage, and the Mile High Club?" asks Sporty's Vice President John Zimmerman. "It's all covered in a highly readable and witty style."
With an introduction by aviation legend Richard Collins, Then and Now is a collection of hilarious, historical essays which take apart aircraft through history and tells how, through a combination of science and art, all the pieces fit together to make a thing that worked — or didn't.
Historical photographs complement the text, while "Literary Intermissions" add original primary source content to the book. One such Intermission tells how an early pilot romanced a woman through his training log.
"Once you understand this rich aviation history, you'll never look at flying quite the same – from your seatbelt to your enclosed cockpit," adds Zimmerman.
Then and Now [M311A] is available for $19.95.
For more information: Sportys.com, 800-SPORTYS.
 People who read this article also read articles on airparks, airshow, airshows, avgas, aviation fuel, aviation news, aircraft owner, avionics, buy a plane, FAA, fly-in, flying, general aviation, learn to fly, pilots, Light-Sport Aircraft, LSA, and Sport Pilot.