World War II comes to life on Saturday, Feb. 11, at Orange County's John Wayne Airport when the biggest, most powerful bird in Lyon Air Museum's collection — the Boeing B-17 Flying Fortress "Fuddy Duddy" — roars into the air as part of the museum's "History Takes Flight" program.
"Our 'History Takes Flight' events enable us to share with the public some of the amazing aircraft made famous during the titanic global struggle for freedom that was World War II," said Mark Foster, president of Lyon Air Museum, a Southern California showcase for vintage World War II era aircraft and automobiles. "Our B-17, 'Fuddy Duddy,' is far and away the star of the museum, and we invite everyone to take this rare opportunity to come see this iconic heavy bomber in flight."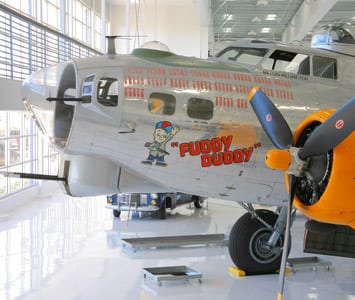 Lyon Air Museum's B-17 was used as a VIP transport in the Pacific at the end of World War II. It once carried U.S. Army Generals Douglas A. MacArthur and Dwight D. Eisenhower, who later became the 33rd U.S. President. In civilian life, the plane worked as a fire bomber and was occasionally used for motion picture filming, flying on screen in movies such as the 1962 Steve McQueen movie, "The War Lover," and the 1970 blockbuster, "Tora Tora Tora."
Powered by four 1,200 horsepower engines driving four propellers, each over 11 ½ feet in diameter, the B-17 had a service ceiling of 35,600 feet and came equipped with a typical armament of 13 Browning fifty-caliber machine guns having a firing rate of approximately 13 rounds per second, per gun.
During the war, B-17 bombers were primarily employed by the U.S. Army Air Forces (USAAF) in the daylight precision strategic bombing campaign against German industrial and military targets. B-17s also participated to a lesser extent in the War in the Pacific, where the planes conducted raids against Japanese shipping and airfields. It was a potent, high-flying, long-range bomber that was able to defend itself and to return home despite extensive battle damage. It quickly took on mythic proportions, and widely circulated stories and photos of B-17s surviving battle damage increased its iconic status. Of the 1.5 million metric tons of bombs dropped on Germany by U.S. aircraft, 640,000 tons were dropped from B-17s, more bombs than any other U.S. aircraft type in World War II.
Lyon Air Museum opened in December 2009. The facility, a 30,000-square-foot hangar, represents the fulfillment of a dream of founder General William Lyon. General Lyon held the position of Chief of the U.S. Air Force Reserve from 1975 to 1979 and currently is Chairman of the Board and CEO of William Lyon Homes, Inc., Newport Beach, Calif. His passion for aviation history and youth education is the driving force behind Lyon Air Museum.
For more information: 714-210-4585, LyonAirMuseum.org
People who read this article also read articles on airparks, airshow, airshows, avgas, aviation fuel, aviation news, aircraft owner, avionics, buy a plane, FAA, fly-in, flying, general aviation, learn to fly, pilots, Light-Sport Aircraft, LSA, and Sport Pilot.