Electroair and Ameritech Industries, the parent company of Eagle Engines and American Propeller Service, have entered into a wholesale stocking distributor agreement for Electroair's new line of electronic ignition kits for experimental and certified Lycoming engines.
With over 35 years of general aviation experience, Ameritech Industries will be distributing the Electroair electronic kit. The EIS-41000 STC'd ignition kit is approved for Cessna, American Champion-Bellanca, Diamond, Grumman, Beechcraft, Mooney and Piper aircraft.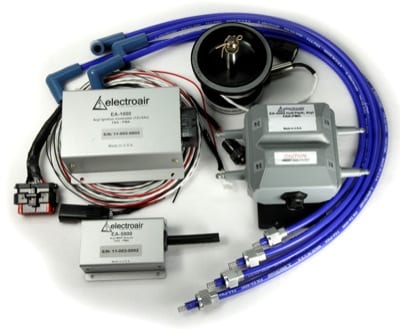 The Electroair direct fire ignition system replaces one magneto with a Trigger Mechanism (MTH) which feeds the engine position and RPM information to the controller. The controller also receives the input from the MAP sensor, computes the amount of dwell required for the coils, adjusts timing, and fires directly into the spark plugs. As a result, you will gain 10-15% in fuel economy, have smoother engine operation and reduce maintenance costs at annual and at overhaul, company officials said. Typical installation time in most applications is 4-6 hours or less.
For more information:  800-292-7767, Ameritech-Aviation.com
People who read this article also read articles on airparks, airshow, airshows, avgas, aviation fuel, aviation news, aircraft owner, avionics, buy a plane, FAA, fly-in, flying, general aviation, learn to fly, pilots, Light-Sport Aircraft, LSA, and Sport Pilot.