Just introduced is Gear Keeper's new RT3-5601 retractable tether for tools up to 2 pounds.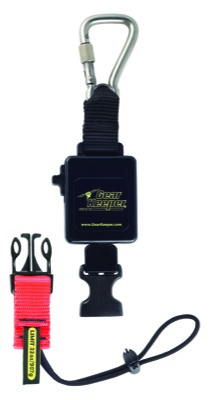 Available in high visibility orange, the retractable tether's ultra low profile keeps tools close to the body when stored while still allowing complete accessibility in all directions when in use, according to company officials. The tether's patented side-release clip improves productivity while maintaining drop safety by providing a method for easily exchanging one tool for another.
Like other retractables in the Gear Keeper line, the RT3-5601 is engineered so that the tool, application and recoil/retraction force are in balance, company officials said. When the RT3-5601 retractable tether is extended for use, only minimal force is necessary, avoiding mechanic fatigue or in the reverse, causing a "kick" when the tool is automatically retracted, officials note.
The RT3-5601 tether extends up to 42 inches and the tether features a ratcheted thumb-controlled device to lock the cable at any extension length. Additionally, the Dual-Axis rotation clamp-on clip attaches to a tool belt or fall protection harness.
RT3-5601 retractable tool lanyards including the dual-axis belt clip retail for $34.99.
For more information: 888-588-9981, GearKeeper.com
People who read this article also read articles on airparks, airshow, airshows, avgas, aviation fuel, aviation news, aircraft owner, avionics, buy a plane, FAA, fly-in, flying, general aviation, learn to fly, pilots, Light-Sport Aircraft, LSA, and Sport Pilot.