The world's only flyable Boeing B-29 Superfortress "FIFI" will tour Florida during the month of March, visiting, Gainesville, Daytona, Titusville, Ft. Lauderdale, Punta Gorda, Lakeland and Tallahassee, officials with the Commemorative Air Force B-29/B-24 Squadron said.
The highlights of the tour will be the appearance of "FIFI" at the TICO Warbird Airshow, Florida International Air Show, and Sun 'n Fun, demonstrating that the "Commemorative Air Force is unique, we aren't like other museums," said CAF President/CEO Stephan Brown. "We start our engines, we fly our airplanes and we get loud, taking history to the public, not waiting for them to come to us. 'FIFI' attending these events is an opportunity for the CAF to continue doing what we do best, educating and reminding Americans of the cost of our freedom."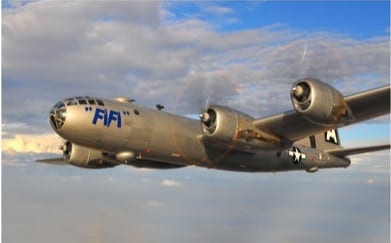 "FIFI" will be available for guided tours (for a donation) and the public will be invited to purchase a ride on the only flyable B-29 in the world. Rides can be booked in advance by visiting the squadron website. Living History Flight Experiences range in price from $595 to $1495 depending upon seat location. It is encouraged to purchase Living History Flight Experiences early, as these seats fill up fast, officials said.
Throughout the tour veterans of the U.S. Army Air Forces and the U.S. Air Force who flew B-29s will be welcome to visit "FIFI" with their family for no charge.
A full schedule for "FIFI" follows:
March 4: Daytona, Florida
March 7-11: TICO Warbird AirShow, Titusville, FL
March 14-18: Fort Lauderdale, Florida
March 21-25: Florida International Airshow, Punta Gorda, Florida
March 27-31: Sun 'n Fun,  Lakeland, Florida
April 3-5: Tallahassee, Florida
For more information: CommemorativeAirForce.org

People who read this article also read articles on airparks, airshow, airshows, avgas, aviation fuel, aviation news, aircraft owner, avionics, buy a plane, FAA, fly-in, flying, general aviation, learn to fly, pilots, Light-Sport Aircraft, LSA, and Sport Pilot.