General aviation icon Hal Shevers, founder of Sporty's, will be the featured speaker at this week's Wichita Aero Club luncheon.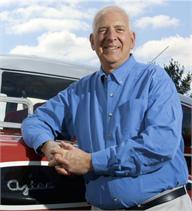 The luncheon, slated for March 21 at the Doubletree by Hilton Hotel at Wichita Airport, begins at noon.
Shevers, founder and CEO of Sporty's Pilot Shop, will talk about his organization's half-century in aviation and his personal involvement in numerous philanthropic and flight training efforts.
Cost for club members is $30. Non-members may attend for $40.
For more information: WichitaAeroClub.org
People who read this article also read articles on airparks, airshow, airshows, avgas, aviation fuel, aviation news, aircraft owner, avionics, buy a plane, FAA, fly-in, flying, general aviation, learn to fly, pilots, Light-Sport Aircraft, LSA, and Sport Pilot.