Brian Lindquist has joined Dallas Airmotive, a BBA Aviation Engine Repair and Overhaul (ERO) company, as Regional Engine Manager for the Northwestern United States. Lindquist will be responsible for selling repair and overhaul services on Honeywell TFE731 engines and 36 series APU, and on Pratt & Whitney Canada PW305 engines.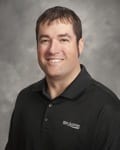 Lindquist spent the last two years as MRO Sales Manager for Western Aircraft in Boise, Idaho. He is a licensed A&P maintenance professional. He has attended FlightSafety and OEM schools on Learjet, Hawker, Falcon and Gulfstream aircraft and has received FlightSafety's "Top Troubleshooter Award" for the Hawker series.
Lindquist will provide sales coverage for Washington, Idaho, Wyoming, Montana, Oregon and Alaska. He will be based in Idaho.
BBA Aviation's Engine Repair and Overhaul group of companies is primarily engaged in the repair and overhaul of gas turbine engines and parts support. Operating under the names Dallas Airmotive, H+S Aviation and Premier Turbines, the combined companies form a world leading, OEM-authorized, independent provider of services for Pratt & Whitney Canada PT6A/T, JT15D, PW100, PW300, PW500 and PW901 APU; Rolls-Royce Spey, Tay and Model 250/T63/T703; General Electric CF34, CT7/T700, M601/H80 and J85; Honeywell TFE731, HTF7000, CFE738, ALF502L engines, and Honeywell Model 36, 331-200/250 and RE100/RE220 series APUs; and the Hamilton Sundstrand T40-1 APU. Dallas Airmotive operates facilities at two locations in Dallas-Fort Worth metropolitan area plus a network of Regional Turbine Centers across the United States, Brazil and in England. Premier Turbines is located in Neosho, Missouri. H+S Aviation is located in Portsmouth, England. In addition to its overhaul and repair facilities, BBA Aviation Engine Repair and Overhaul operates two parts supply companies: International Turbine Service and Barrett Turbine Engine Company and one component and accessory repair and overhaul company International Governor Services. For more information: BBAAviationERO.com
People who read this article also read articles on airparks, airshow, airshows, avgas, aviation fuel, aviation news, aircraft owner, avionics, buy a plane, FAA, fly-in, flying, general aviation, learn to fly, pilots, Light-Sport Aircraft, LSA, and Sport Pilot.