Interested in building an airplane, but just not sure if you can do it? Those who attended Sun 'n Fun last week found that they could hone their skills — and increase their confidence — at the Sun 'n Fun Workshops.
This year there were 14 workshops offered near the Buehler Restoration Center and the Florida Air Museum on the Sun 'n Fun campus, which is on Lakeland-Linder Regional Airport (LAL). The workshops covered everything from engines to basic sheet metal, composites, metal shaping, fabric covering, avionics, and more, reported Vic Boyce, workshops chairman. "Everyone is welcome," he said, noting, "they are all hands-on workshops."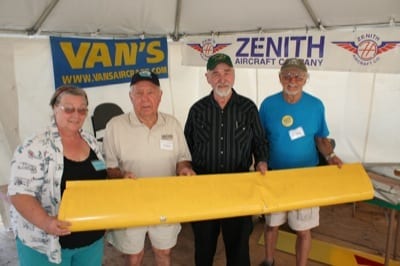 There were 167 volunteers at the workshops, including Burl Nelson of Diamondhead, Miss., who was manning the Basic Sheet Metal and Riveting Workshop. He noted that Van's Aircraft and Zenith Aircraft both donated supplies for the workshop, including parts for participants to work on. Zenith donated the pieces for would-be builders to create a Drawings Binder. Putting it together gives people a chance to do some rivets and get their hands on a project, he said.
Such a small project can make a big difference, according to Boyce.
"People have told me that we've changed their lives," he said. "They say, 'before I came to Sun 'n Fun, I couldn't do anything and now I can build a plane.'"
It's all a matter of showing people what is possible, Nelson added, telling the story of a young couple in their 20s who showed up a few years ago, the man all excited about building his own plane and the woman just tagging along, unsure of what to do. Nelson looked her in the eye and said, "You're going to help him, right?"
"She said, 'oh no, I can't do that,'" Nelson recalled. "I took her to a table and showed her what to do and within 15 minutes she looked at me and said, "you know, I think I can do this.' We got her to where she saw that she could learn."
"We turn the key," Boyce chimed in.
For more information: Sun-n-Fun.org
People who read this article also read articles on airparks, airshow, airshows, avgas, aviation fuel, aviation news, aircraft owner, avionics, buy a plane, FAA, fly-in, flying, general aviation, learn to fly, pilots, Light-Sport Aircraft, LSA, and Sport Pilot.