By BOB JAQUES
To college football fans, Tuscaloosa, Alabama, is home of the famous Crimson Tide 2011 National Champions, but to aviation enthusiasts, Tuscaloosa is rapidly becoming one of the fastest growing regional airshows in the country.
This year's airshow, held March 31 and April 1, was the best, so far, of the three airshows that have been held at the Tuscaloosa Regional Airport (TCL). Planned as an annual event, the first show was in 2009 and the second in 2010. Due to the devastating tornadoes in April 2011, there was no show last year.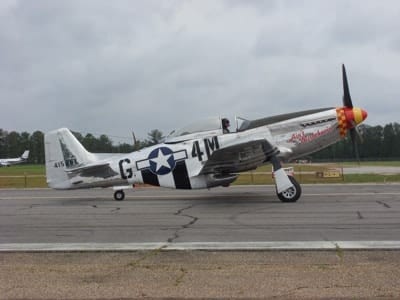 The Tuscaloosa city government and the city government of the neighboring town of Northport joined forces to lead this aviation event. They also enlisted the help of 19 corporate sponsors so there would be no admission charge to the public.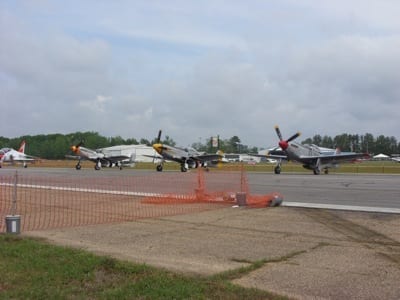 On March 31, the first day of the weekend event, more than 75,000 people jammed the airport to view the stunt planes, the World War II fighters, the U.S. Army's Golden Knights Parachute Team, the static displays, and the U.S. Navy's famed Blue Angels.
This year's theme was "Honoring Our Heroes," which included all veterans from any conflicts. There were Tuskegee Airmen and others from World War II, the Korean War, Vietnam, Desert Storm, and Iraq and Afghanistan veterans.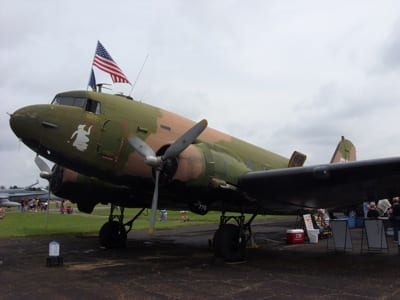 World War II aircraft on displays included a F4U Corsair from the Commemorative Air Force and three North American P-51 Mustang fighters. These four aircraft flew as a Warbird Flight, and excited the crowd with their high-speed passes.
The static display area also featured some interesting and historical aircraft. One was a yellow North American T-6, which was flown in 1954 by Claude Hendrickson, Jr., who retired as a Navy captain. His son now owns the plane his dad flew in 1954.
The American Flight Museum in Topeka, Kansas, had its AC-47 "Spooky" gunship. The plane was used in World War II as a supply relief plane during the Battle of the Bulge.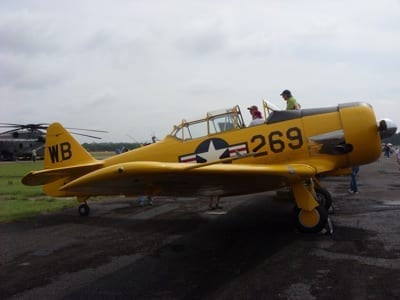 Veteran airshow pilots Rob Holland, Gordo Sanders, and Mike Wiskus flew individual aerobatic routines thrilling the crowds with high-speed snap-rolls, climbs, dives, hammerhead stalls, and tail-slips.
A unique flying act was done by veteran performer Matt Younkin, who flew a 1943 Beech 18 doing maneuvers never intended for this type of airplane to perform. With smoke trailing from each engine exhaust, he took off, and as he was climbing, he did a complete roll and then continued upward. He did a series of rolls, fast fly-bys, and even a loop.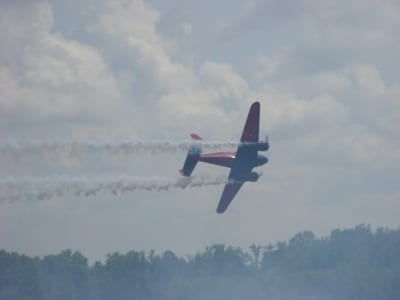 The act that most caught the attention of the crowd was a PT-17 Stearman flown by Kirk Wicker, with his wife Jane Wicker as his wingwalker. After takeoff, Jane climbed from her seat to the top of the airplane and fastened herself into a tight brace. She had no other restraining devices and she did not wear a parachute. Kirk flew the Stearman in circles, climbs, and even upside down. People, including myself, held their breath as she climbed around the airplane in flight. They landed safely.
The airshow concluded with a breath-taking demonstration by the Blue Angels.
By the time the show ended, the Tuscaloosa and Northport sponsors were already planning for the 2013 season, and figuring out how they can top this year's successful show. That will be difficult!
For more information: Tuscaloosa.schultzairshows.com
People who read this article also read articles on airparks, airshow, airshows, avgas, aviation fuel, aviation news, aircraft owner, avionics, buy a plane, FAA, fly-in, flying, general aviation, learn to fly, pilots, Light-Sport Aircraft, LSA, and Sport Pilot.