Flightcom has introduced a new line of of eight general aviation headsets. The Venture headsets includes two active noise reduction (ANR) models, company officials note.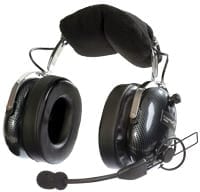 The top of the line Venture V90 headsets (pictured) offer leading performance, comfort and style, including fresh new carbon fiber design ear domes and padded head bands with ear seals covered in Flightcom's ComLeather, company officials said. The V90 headsets are available in ANR, fixed-wing and helicopter-compatible models.
The V70 fixed-wing model also sports ComLeather-covered ear pads and the same new carbon fiber-look domes as the V90. The V50 headsets provide active noise reduction, and passive models for fixed-wing and helicopter use. The V30 headset is designed and built to the same high quality and reliability standards and is aimed at student pilots and "back-seaters" of all kinds.
All Flightcom Venture headsets come standard with a three-year limited warranty and can be ordered immediately through authorized dealers and distributors worldwide.
For more information: Flightcom.net or 800-432-4342
People who read this article also read articles on airparks, airshow, airshows, avgas, aviation fuel, aviation news, aircraft owner, avionics, buy a plane, FAA, fly-in, flying, general aviation, learn to fly, pilots, Light-Sport Aircraft, LSA, and Sport Pilot.