The world's only flyable Boeing B-29 Superfortress, "FIFI," and other Warbirds have triumphed in a battle against a proposed amendment that would have grounded many of these aircraft.
On Friday, April 27, the Commemorative Air Force (CAF) announced in a prepared statement that Congressman Michael R. Turner (R-Ohio) withdrew a proposed amendment known as Title 10 to the House National Defense Authorization Act (H.R. 4310).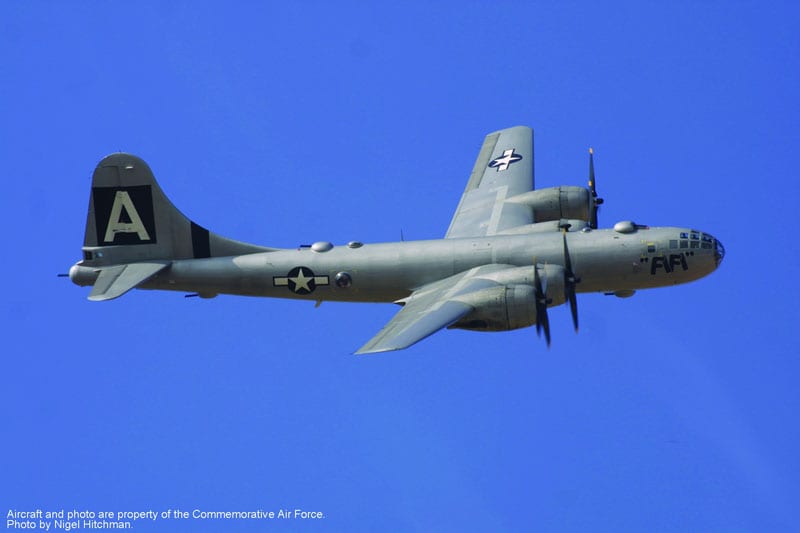 The withdrawn amendment would have barred the Department of Defense (DoD) from loaning or gifting any United States military aircraft or aircraft parts to any entity except those that would put the aircraft on static display, such as in a museum. Organizations like the CAF would no longer have been allowed to conduct flight operations in these DoD "loaned" vintage aircraft in an effort to teach history and remind Americans of the sacrifices for freedom, CAF officials said.
"I am happy to say that I think we have made tremendous progress in a very short time, due to the reaction of the members of the CAF. When Congressman Mica's office of the Aviation Subcommittee called me just seven days ago to discuss the proposed amendment, I immediately became very concerned and sounded the alarm," Stephan Brown, President/CEO of the Commemorative Air Force said. "What Congressman Mica's office and our close friends in Congressman Graves' and Congressman Conaway's office did not know is that FIFI is a Conditional Donation from the USAF, with a further agreement, which permits flight operations of our B-29. Since we have been very diligent in complying with the agreement, there is no way for the USAF to keep us from flying FIFI, except through legislation."
As things progressed, CAF members and members of other aviation organizations, including EAA/Warbirds of America, Classic Jet Aircraft Association (CJAA) and others, bombarded Turner's office with calls, emails and letters. It quickly became apparent to the leadership of the CAF and other Warbird organizations that Turner's office was beginning to feel the heat, CAF officials said.
With the added pressure, Turner's office has stated that there will not be a "Title 10 Amendment" put forward by him limiting Warbird flight operations.
As of today, Turner's now-modified statement reflects the following statement:
"The Warbird community plays an important role in bringing [World War II] era aircraft to our nation's citizens. These propeller-driven craft are ambassadors of freedom's price and I do not support grounding any of them."
"But the concern continues," said Brown. "Rep. Turner will not commit 'in writing' to never propose or support language that limits the flight operations of DoD 'loaned' aircraft — of any kind, jets or otherwise, though the CAF has requested this several times over the past week."
For more information: www.commemorativeairforce.org or 432-563-1000.
People who read this article also read articles on airparks, airshow, airshows, avgas, aviation fuel, aviation news, aircraft owner, avionics, buy a plane, FAA, fly-in, flying, general aviation, learn to fly, pilots, Light-Sport Aircraft, LSA, and Sport Pilot.