DMA Aero has introduced the PAMB10/11 Precision Pressure Standard offering both Pitot Static and direct pressure/vacuum measurements throughout the atmospheric pressure range. With an accuracy of less than 2 feet at sea level, the instrument is considered a portable NIST traceable transfer standard that can be used to calibrate or validate Air Data Test Sets or aircraft instruments in the field, or simply measure barometric pressure with a very high precision, according to officials.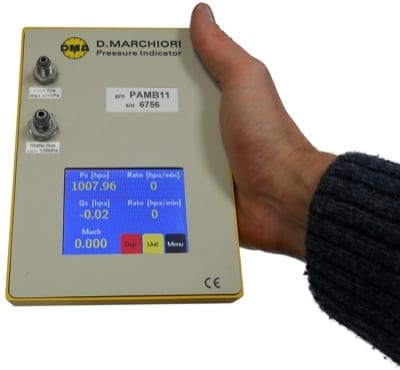 The PAMB features a 3.5-inch backlit, colored LCD touch screen display for simultaneous Ps and Qc measurements. Measuring range is up to 105 inHg with 0.0001 inHg resolution. This provides for direct reading Airspeed (up to 550 kts) and altitude (up to 55,000 ft) or many pressure units including psi, inHg, Pa, mbar etc. Housed within a compact enclosure of 1.8 lbs, with AN4 (Ps) and AN3 (Pt) pneumatic connections, the PAMB operates from 12vDC with RS232, Ethernet or USB outputs.
For more information: 203-790-8371, DMA-aero.com
People who read this article also read articles on airparks, airshow, airshows, avgas, aviation fuel, aviation news, aircraft owner, avionics, buy a plane, FAA, fly-in, flying, general aviation, learn to fly, pilots, Light-Sport Aircraft, LSA, and Sport Pilot.