Sporty's Annual Fly-In and Open House is set for Saturday, May 19, at Clermont County/Sporty's Aiport (I69) in Ohio.
Sporty's Fly-In includes seminars and exhibits, and, of course, the company's signature free hot dogs.
Sporty's officials will be announcing the winner of Sporty's Sweepstakes and one lucky customer will be awarded an all-new Cessna Skycatcher with Garmin G300 avionics.
Also this year, Sporty's Fly-In is the location for the induction of Rudy Frasca into the CFI Hall of Fame.
The weekend kicks off Friday, May 18, at 6 p.m. with the "Come As You Are When You Can" Buffet Dinner and Hangar Party. After dinner, climb on Sporty's bus in search of a night cap or two or return to your hotel.
The Fly-In runs from 10 am to 3 pm Saturday. At 12 Noon, there will be the Rudy Frasca CFI Hall of Fame induction, followed by the awarding of the Sweepstakes Skycatcher. Free hotdogs for lunch.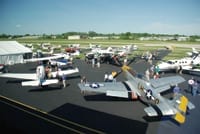 A full day of seminars are scheduled from companies including Garmin, Aspen, ForeFlight, Air Mod and more.
For more information: Sportys.com
People who read this article also read articles on airparks, airshow, airshows, avgas, aviation fuel, aviation news, aircraft owner, avionics, buy a plane, FAA, fly-in, flying, general aviation, learn to fly, pilots, Light-Sport Aircraft, LSA, and Sport Pilot.