Fk Lightplanes in Germany recently celebrated the production of Number 100 of its fascinating model, the Fk12 Comet. This snappy handling, steady flying, folding wing biplane has no competitors in the LSA space, even with 123 total models winning Special LSA approval. At airshows here in America, Hansen Air Group has been showing the Comet to substantial interest.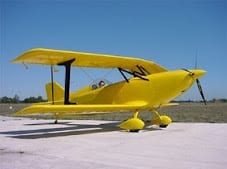 German designer Peter Funk — who I've known for many years — counts himself among those pilots who have a soft spot for biplanes. This interest stimulated the prolific designer to create a lightweight biplane way back in 1994. He said his intention was to build not only a plane preserving the classical style of a biplane but one that would also provide good flight performance and be easily and comfortably folded up for hangar storage.
Funk also wanted to be able to fly in winter, so he envisioned a fully enclosed biplane though options provide for an open cockpit version for those of us who like some air in our hair. Comet entered production at the end of 1997 and today is one of the most widely sold biplanes in Europe.
Peter said, "Comet is also most likely the only biplane in the world that has a laminar profile and it is most certainly the fastest of its kind." Fk12's sprightly performance and crisp handling lends it to aerobatic flying along with other design attributes. Its flight qualities and strong airframe (+9 -3 G) are leading to the installation of a Lycoming O-233 to allow fully aerobatic maneuvers. Rotax powers most Comets but the Austrian engine manufacturer does not permit its engines to be used in aerobatic flight.
Peter clarified, "Comet's airframe has shown compliance to FAR Part 23 acrobatic regulations and so can be used for basic acro." He added that the Comet can accommodate larger engines up to 130 hp. The Lycoming is usually stated at 118 horsepower.
"We don't say Comet is something to compete with Pitts or Extra," said Peter, "but it's remarkable that even with the standard 100-hp Rotax 912 you have the same power-to-weight ratio at aerobatic gross weight to compare with a 180-hp Pitts or an Extra 200."
For more information: ByDanJohnson.com
People who read this article also read articles on airparks, airshow, airshows, avgas, aviation fuel, aviation news, aircraft owner, avionics, buy a plane, FAA, fly-in, flying, general aviation, learn to fly, pilots, Light-Sport Aircraft, LSA, and Sport Pilot.