The technology on the flight deck and inside the nacelles of modern aircraft continues to evolve so quickly it's tough to keep up, so the May 22 luncheon of the Wichita Aero Club will feature key figures in those fields to address the latest developments.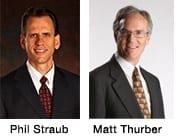 The discussion will be moderated by Aviation International News Senior Editor and technology expert Matt Thurber. He'll be teamed with Phil Straub, Vice President and Managing Director of Garmin's Aviation product line and an as-yet-to-be-named representative of Honeywell Engines in Phoenix.
The luncheon will be held in the Grand Ballroom of the Doubletree Hotel by Hilton at the Wichita Airport, beginning with a reception at 11:45 a.m. and lunch at noon.
Reservations can be made online or by calling 641-5962. Members receive a 25% discount on their lunches.
People who read this article also read articles on airparks, airshow, airshows, avgas, aviation fuel, aviation news, aircraft owner, avionics, buy a plane, FAA, fly-in, flying, general aviation, learn to fly, pilots, Light-Sport Aircraft, LSA, and Sport Pilot.