An honor guard of Civil Air Patrol cadets will salute aviation legend Evelyn Johnson Bryan, known by all as "Mama Bird," when she is laid to rest Wednesday morning in Jefferson City, Tenn.
The scheduled cadet presence is part of CAP's tribute to Col. Evelyn Bryan Johnson, one of its most storied members. She joined the all-volunteer organization's ranks Dec. 28, 1949.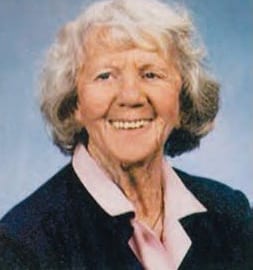 Johnson, who was inducted into the National Aviation Hall of Fame in 2007 and had been presented with CAP's 50-Year Member Award and a life membership in May 2005, died Thursday in Elizabethtown. She was 102.
Her "Mama Bird" nickname referred to the immense number of pilots Johnson had trained in her career – some 5,000, she estimated – as both a member of the Morristown Composite Squadron of CAP's Tennessee Wing and as owner of a flight school in Morristown.
"All CAP members join me in saluting 'Mama Bird,'" said Maj. Gen. Chuck Carr, CAP national commander. "Her life and legacy were a shining example of our organization's dedication to service and to sharing the experience of aviation with youth in particular and with the public in general."
During her decades as a Morristown squadron member, Johnson participated in numerous search and rescue missions and taught hundreds of cadets to fly.
When inducted into the National Aviation Hall of Fame she had logged more than 50,000 flight hours – more than any female pilot ever – and trained more pilots and administered more FAA exams than any other pilot in history. In 1979 the FAA named her as flight instructor of the year.
In all, her flight logs showed 57,635.4 hours, or some 6½ years aloft, totaling 5.5 million miles in the air – and not a single crash.
"With her passing we have lost one of the brightest lights and leading torch bearers of aviation," said Col. Alvin J. Bedgood, commander of CAP's Southeast Region. "'Mama Bird' is noted for having trained more pilots than any single flight instructor in the history of American aviation (if not the world). Her enthusiasm for aviation is aptly captured in the phrase 'love at first flight.'"
In addition to owning a flight school in Morristown, she served as manager of the city's Moore Murrell Municipal Airport. The 20th woman in the U.S. to earn a helicopter pilot's license, she was a certified helicopter flight instructor and a member of the "Whirly Girls" organization.
The Ninety-Nines organization of women pilots, which she joined in 1947, chose her as one of the 100 most influential women in America.
"Evelyn has been a featured speaker at our University of Tennessee Aerospace Workshop for the last 16 years and indicated this very week that she was looking forward to returning to speak this July," said Lt. Col. Dave Garner, Southeast Region director of aerospace education.
For more information: GoCivilAirPatrol.com
People who read this article also read articles on airparks, airshow, airshows, avgas, aviation fuel, aviation news, aircraft owner, avionics, buy a plane, FAA, fly-in, flying, general aviation, learn to fly, pilots, Light-Sport Aircraft, LSA, and Sport Pilot.