A group of more than 20 aviation organizations and individuals recently established the Aviation Educator Hall of Fame (AEHOF).
According to the new organization's charter, AEHOF's purpose is twofold:
The selection and recognition of qualified nominees who, through extraordinary achievement and service of either a sustained or a one-time nature, have made outstanding contributions to aviation education; and,
The public honoring of those individuals for their contributions to the development, advancement, and promotion of aviation education.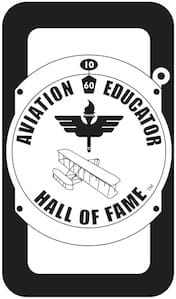 Any person or group may nominate an individual for induction into AEHOF. Eligible nominees include ground, flight, and simulator instructors, pilot examiners, teachers and academicians, authors, researchers and innovators, maintenance and avionics instructors, and other aviation-education-related professionals who warrant consideration either through a body of work that demonstrates sustained superior performance, or through truly extraordinary accomplishment. Nominations for the Hall's inaugural class of inductees are due by Oct. 1.
Begun in 2010 as an initiative of the Society of Aviation and Flight Educators (SAFE), the SAFE Board granted authorization to proceed with AEHOF as an independent organization in late 2011. In addition to donations from numerous coalition members, AEHOF received a 2011 Wolf Aviation Fund grant to help offset start-up expenses.
For more information: AviationEducatorHoF.org
People who read this article also read articles on airparks, airshow, airshows, avgas, aviation fuel, aviation news, aircraft owner, avionics, buy a plane, FAA, fly-in, flying, general aviation, learn to fly, pilots, Light-Sport Aircraft, LSA, and Sport Pilot.