IDAHO FALLS, Idaho — The Idaho Aviation Association (IAA) honored local flight instructor Bob Jones during the May 18-19 Trade Show Aviation Idaho. Jones is 86 years old, still instructing, and as sharp as I wish I were at less than half his age.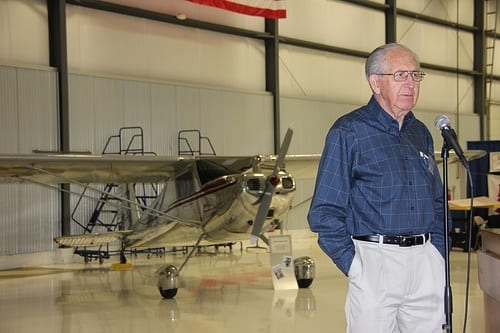 IAA District 6 Director Mike Hart admitted the IAA was honoring Jones (pictured above) with a "non-award award," but it was unanimous among the board. The honoring of Jones was a simple affair, much like the honoree. After a few words of introduction from Hart, a few of the more than 1,000 students Jones has instructed offered a few words from their experiences flying with Bob, followed by a few humble words from the man himself.
Jones is originally from nearby Rexburg, Idaho, and he and wife Barbara have lived in Idaho Falls since 1947. Jones learned to fly T-6s at Luke Air Force Base in Arizona during World War II in 1944 and 1945 and was commissioned as an officer at 19, but never saw combat overseas. Since learning to fly, Jones has amassed more than 20,000 total flight hours, with 16,000 of those hours logged as instruction. Amazingly, with the exception of four years of full-time flying, Jones earned his hours as a part-time instructor. Jones spent 37 years as an engineer with the Atomic Energy Idaho National Laboratories, formerly the National Reactor Testing Station.
Of note in a part-time career spanning more than 65 years, Jones…
Bob has never owned an airplane. He's instructed in whatever the student showed up in. And he never had an accident, although he had two in-flight engine failures.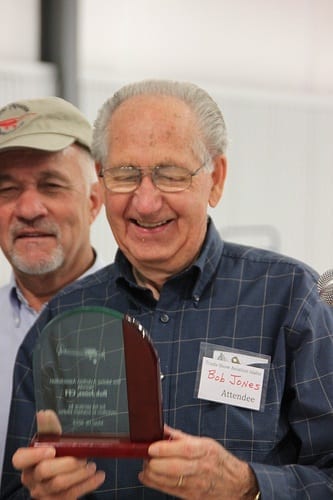 "One was west of Idaho Falls. We were doing spin training and the carburetor iced up," said Jones. "When we pitched up the engine quit. We couldn't get it restarted in the air so we found an open spot among the lava fields to put down in. I had my student keep the cows clear of the area I took off from, flew back to Idaho Falls, hopped in my car and went back out to pick up my student. The other engine failure happened here at the airport. We'd just taken off, and the carburetor failed. I took over, we landed straight ahead and ran off the end of the runway. Just as we rolled out, the engine came back to life so we taxied back to the ramp. Interestingly, those two events happened 50 years apart, nearly to the day."
This isn't Jones's first honor. He was named the 1991 National Flight Instructor of the Year.
"One of the great pleasures of my life is all the people I've met," said Bob in thanking everyone for the honor.
Jones turns 87 in July and plans to continue instructing through 2013, "and then I'll probably hang it up." For some reason, I find that last quote hard to believe.
People who read this article also read articles on airparks, airshow, airshows, avgas, aviation fuel, aviation news, aircraft owner, avionics, buy a plane, FAA, fly-in, flying, general aviation, learn to fly, pilots, Light-Sport Aircraft, LSA, and Sport Pilot.