Jarrett Jackson, a member of Boy Scouts of America, Troop 391, has started working on his ambitious Eagle Scout project, "Project Eagle Flight," thanks to a contribution by Murphy-Brown LLC, the Warsaw, N.C.-based livestock production subsidiary of Smithfield Foods.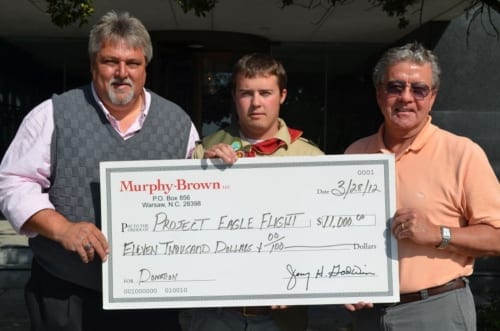 In debating what to do for his Eagle Scout project, Jackson decided to build a helicopter landing pad so that emergency aircraft from the University of North Carolina at Chapel Hill, Duke Medical Center, Wake Med, Pitt Memorial Hospital and New Hanover Regional Medical Center will have a safe and secure place to land and pick up their patients.
The helipad is located at the Spivey's Corner Fire Department, which is a predesignated emergency aircraft landing area for Sampson County. The helipad will consist of a concrete pad with recessed lighting, and remote control operations by the helicopter pilot. Jackson, his brother, and father are volunteer firemen.
Don Butler, director of government relations and public affairs for Murphy-Brown, heard about the project and was very impressed with Jackson's project idea and the work that he had already done to turn the idea into a reality. "Supporting worthy projects in the communities where we have business interests is very important to Murphy-Brown," Butler said. "This project will benefit people in need of emergency medical attention, throughout our region, for many years to come."
In a meeting at Murphy-Brown headquarters, Butler presented Jackson with a surprise check for $11,300, the balance of the funds needed to complete the $22,000 project. Jackson, almost speechless by the generous gift, told Butler, "I don't know what to say, except, 'thank you.' I never thought that someone would help out like this. Can you believe this?"
Project Eagle Flight is set to be completed during the coming months.
For more information: MurphyBrownllc.com
People who read this article also read articles on airparks, airshow, airshows, avgas, aviation fuel, aviation news, aircraft owner, avionics, buy a plane, FAA, fly-in, flying, general aviation, learn to fly, pilots, Light-Sport Aircraft, LSA, and Sport Pilot.