The aviation documentary "The Restorers – They Were All Volunteers" has been nominated for three Emmys.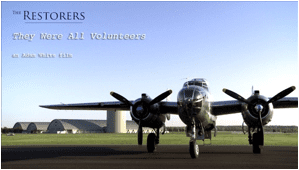 Produced by Hemlock Films, the pilot episode of "The Restorers" is based on the Commemorative Air Force, Minnesota Wing, their members, and their journey to the 68th Doolittle Raiders Reunion in 2010 in Dayton, Ohio. The Minnesota Wing is based in South Saint Paul, Minn., and has resided there since 1971.
"The Restorers — They Were All Volunteers" was nominated in three categories: Best Writing, Technical Achievement, and Best Documentary. The 2012 The Regional Great Lakes Emmy Awards will be held Saturday, June 2, in Indianapolis, Indiana.
For more information, click here.
People who read this article also read articles on airparks, airshow, airshows, avgas, aviation fuel, aviation news, aircraft owner, avionics, buy a plane, FAA, fly-in, flying, general aviation, learn to fly, pilots, Light-Sport Aircraft, LSA, and Sport Pilot.