The 28th Annual Wings Over Houston Airshow takes flight Saturday, Oct. 27 and Sunday, Oct.28 at Ellington Airport, with the U.S. Navy's Blue Angels as the highlight of the show.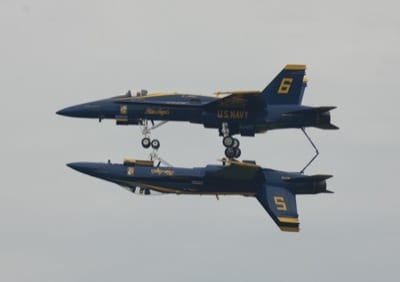 The team exhibits choreographed refinements of skills possessed by all naval aviators. The Blue Angels' C-130, known as Fat Albert, begins the demonstration by exhibiting its maximum performance capabilities, followed by the Blue Angels' four-jet Diamond Formation, in concert with the fast-paced, high-performance maneuvers of its two solo pilots.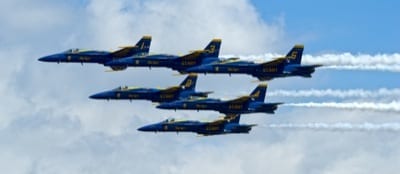 This year's Wings Over Houston Airshow welcomes several new additions, including the U.S. Air Force's newest fighter aircraft, the F-22 Raptor, the U.S. Marine Corp MV-22 Osprey demonstration, and the Air National Guard Flash Fire Jet Truck.
Returning favorites include the Tora!Tora!Tora! reenactment of the World War II air power attack on Pearl Harbor, and the CAF's Red Tail Project, an interactive theater and display featuring the story of the Tuskegee Airmen. Fans will also be entertained by top tier aerobatic performers, including Sean D. Tucker and Team Oracle and Team Breitling with David Martin. The event also features military demonstrations performed by the Air Force Heritage Flight, the U.S. Coast Guard MH65C Dolphin Helicopter, and the Texan II.
"Wings Over Houston Airshow strives to bring new, exciting world-class aviation demonstrations and exhibits each year. This year, we are especially proud to be one of the few airshows to demonstrate the F-22 Raptor," said Bill Roach, executive director of Wings Over Houston Airshow.
Other highlights of the 2012 Wings Over Houston Airshow include the "Legends & Heroes Autograph Tent", 6th Cavalry Historical Association, Military Museum of Texas, interactive NASA display, a children's area including a rock wall, a mechanical bull and exhilarating Aircraft M-4 simulator rides.
Tickets for the 2012 Wings Over Houston Airshow are on sale now. Advance tickets purchased prior to Aug. 1 are $17.50. Advance tickets purchased after Aug. 1 are $20 for adults, $4 for children ages 6 through 11 and free for children 5 and under. Reserved "Prime-View" seats located at the "50-yard-line" are $45 and include reserved parking and an event program. Eagle Squadron Hospitality tickets are $125 and include reserved seating, catered food and beverages throughout the day, reserved parking, a souvenir cap, program and poster. Tickets can be purchased by visiting WingsOverHouston.com or 888-4-FLYSHOW.
People who read this article also read articles on airparks, airshow, airshows, avgas, aviation fuel, aviation news, aircraft owner, avionics, buy a plane, FAA, fly-in, flying, general aviation, learn to fly, pilots, Light-Sport Aircraft, LSA, and Sport Pilot.