SimCom Training Centers has earned Twin Commander Aircraft's endorsement as the exclusive factory-authorized provider of pilot initial and recurrent training for Twin Commander 690/A/B and JetProp models.
"We are very happy to have SimCom as part of our team," commented Twin Commander Aircraft President Matt Isley. "It is critically important for fleet safety to have professionally administered simulator-based pilot training. SimCom has many years of experience training turbine aircraft owner-pilots. The entire worldwide Twin Commander fleet will benefit from their expertise, experience, and passion for providing the very best in simulator-based pilot training."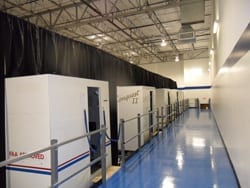 SimCom acquired the Twin Commander training program from FlightSafety International in 2011, and now operates two Twin Commander motion simulators and one flight training device at its Dallas-Ft. Worth center.
Pilot training for any Twin Commander turboprop model, from the 690 to the 695A/B, can be done in one of the three SimCom simulators. Each is equipped with a Garmin 530 for GPS navigation and approaches.
For more information: Simulator.com, TwinCommander.com
People who read this article also read articles on airparks, airshow, airshows, avgas, aviation fuel, aviation news, aircraft owner, avionics, buy a plane, FAA, fly-in, flying, general aviation, learn to fly, pilots, Light-Sport Aircraft, LSA, and Sport Pilot.