When it receives delivery of a CubCrafters Carbon Cub in early June, directSky will become the aircraft manufacturer's first dealer to service the European market.
directSky provides aircraft sales, maintenance, management, restoration, repairs and pilot training. It is headed by Managing Director/CEO Kamil Skorupski. DirectSky is located in Ireland (Abbeyshrule Airfield) and Poland (Mielec Airfield).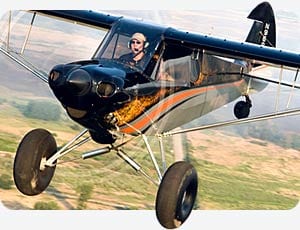 Initially, directSky will offer two CubCrafters aircraft: The Carbon Cub SS, which will initially be registered under the EASA Permit to Fly regulation until it is issued a certificate in the EASA CS-LSA category; and the Carbon Cub EX, a kit version of the Carbon Cub SS (pictured).
"We've received a lot of inquiries for both types of aircraft, and we believe that the factory built Carbon Cub SS and kit Carbon Cub EX will prove to be as popular in Europe as they are in the U.S.," says Skorupski. "We're delighted to offer them to our customers in Europe."
CubCrafters General Manager Randy Lervod comments: "We've been eager to establish a presence in Europe for some time now, but needed to find an importer/dealer who offered the right fit. I believe we've found that fit with directSky. They have the infrastructure necessary to promote and support the product, even to the point of being able to build an aircraft. Most important, they share our commitment to providing customers with the highest levels of quality and service."
For more information: directSky.eu, CubCrafters.com
People who read this article also read articles on airparks, airshow, airshows, avgas, aviation fuel, aviation news, aircraft owner, avionics, buy a plane, FAA, fly-in, flying, general aviation, learn to fly, pilots, Light-Sport Aircraft, LSA, and Sport Pilot.