The historic air traffic control tower at Sebring Regional Airport (SEF) in Florida is badly in need of renovation and the Sebring Airport Authority is asking the city, the county and prominent members of the public for letters of support in obtaining a state grant.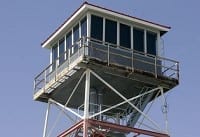 The tower, 62.8 feet tall, was built in 1941, when the Hendricks Field training base opened. However, the tower was relocated in 2000 to make room for the new airport terminal building.
This tower is one of only two of its type, built during World War II, still in existence. The renovation cost is expected to be somewhere between $70,000 and $100,000, according to airport officials.
The airport is planning a 50/50 grant application to the state Division of Historical Resources Small Matching Historic Preservation Grant program. That means they will match the $50,000 or whatever amount they receive.
The Tower History
In September 1941, the first enlisted men arrived in Sebring while housing was not yet ready at the base. At its full allotment of personnel, there were 217 officers, 475 flight cadets, 1,930 enlisted men and 15 nurses, for a total of 2,637. January 29, 1942, the first B-17 arrived, and a crew of one pilot and one mechanic was assigned to it. Eventually, a total of 10 airplanes were brought in, all under the jurisdiction of the Southeast Army Air Forces Training Center at Maxwell Field, Ala.
The state has recognized the tower as a historic structure, but there is another level of FAA requirements that it no longer meets because it was relocated.
The airport actually still uses the tower only a few times a year, including the U.S. Sports Aviation Expo in January, and during the 12 Hours of Sebring race, when it is occupied by FAA personnel due to the heavier air traffic.
Officials at the airport asks all to support the grant by writing to Sebring Airport Authority, 128 Authority Lane, Sebring, FL, 33870, or by email at bev@sebring-airport.com. The deadline for letters is June 22, 2012.
Letters should be addressed to: Mr. Robert F. Bendus, Director, Division of Historical Resources, c/o Historic Preservation Grants Program, 500 South Bronough Street, Tallahassee, Florida 32399-0250.
For more information: Sebring-Airport.com
People who read this article also read articles on airparks, airshow, airshows, avgas, aviation fuel, aviation news, aircraft owner, avionics, buy a plane, FAA, fly-in, flying, general aviation, learn to fly, pilots, Light-Sport Aircraft, LSA, and Sport Pilot.