DeLorme has released an upgrade for its inReach two-way satellite communicators.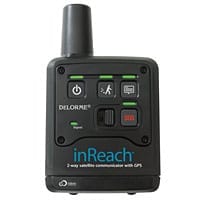 inReach users can download the latest firmware version to their inReach devices at no cost. Product improvements and enhancements in the new release include extended battery life and recharging options. In addition, the newly-updated Earthmate app enables world topographic map downloads.
Introduced to the market in November 2011, inReach is a satellite communicator offering two-way personal text messaging with delivery confirmation, SOS alerting and Follow-Me/Find-Me tracking and location.
It operates over the Iridium satellite network for global coverage, high network reliability and fast data connections with end-to-end message delivery in less than 60 seconds anywhere on Earth, according to company officials. inReach pairs with most popular smartphones and tablets for two-way global messaging in the 90% of the world's surface not served by cellular phone networks. The handheld inReach device has an IP68 waterproof and dustproof rating, is impact resistant and works under extreme high and low temperatures, company officials note.
inReach users can choose AA-size Lithium, Alkaline or rechargeable Nickel Metal Hydride (NiMH) batteries to power the device. With the new upgrade, battery life has been doubled from 60 to 125 hours for standard Lithium AA batteries, with 10-minute reporting intervals. When running on Alkaline batteries, which are lower cost and readily available at retail stores everywhere, battery life is extended up to 72 hours. For maximum flexibility and minimal environmental impact, the rechargeable NiMH batteries can run up to 75 hours between charges and can be recharged up to 500 times. When connected to commercially available solar chargers, NiMH batteries provide a cost-effective solution for long trips away from electrical power sources, company officials said.
The Earthmate app now enables downloading of seamless topographic maps of the world from DeLorme's new Digital Atlas of the Earth (DAE). Users can download and store all the maps they need for travel all around the world. DAE detail includes elevation contours, land cover, place names, major roads as well as connectors and urban streets, railroads, transportation hubs and places of interest including museums, landmarks, dams, stadiums, ports and more.
inReach users can download the new firmware free. The latest Earthmate app is available at no charge from the companion device's online app store.
For more information: inReachDelorme.com
People who read this article also read articles on airparks, airshow, airshows, avgas, aviation fuel, aviation news, aircraft owner, avionics, buy a plane, FAA, fly-in, flying, general aviation, learn to fly, pilots, Light-Sport Aircraft, LSA, and Sport Pilot.