Award-winning country music star and songwriter Phil Vassar joins the marquee musical lineup slated for EAA AirVenture 2012 as the grand finale of a day-long salute to veterans on Friday, July 27. The 60th annual edition of "The World's Greatest Aviation Celebration" will be held July 23-29 at Wittman Regional Airport (OSH) in Oshkosh.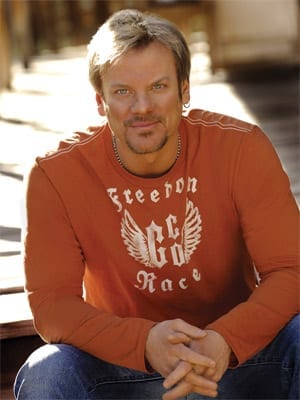 One of Nashville's most prolific and versatile stars, Vassar will take to the Theater in the Woods stage for the evening performance hosted by EAA Warbirds of America and Disabled American Veterans. This Friday concert has drawn more than 6,000 attendees in recent years and again will be the highlight of a veteran-focused day.
His resume boasts numerous hits he has written for artists such as Alan Jackson, Tim McGraw, Jo Dee Messina, and Collin Raye, and many more hits as an artist in his own right, including his latest smash "Don't Miss Your Life." He's been named the American Society of Composers, Authors and Publishers (ASCAP) Songwriter of the Year twice and has taken top honors from the Academy of Country Music, Billboard MusicRow, and also honored by the Country Music Association.
Vassar is known not only for his gift for hit songwriting, but also for his compelling and highly entertaining skills on the piano. His uniquely piano-based, rhythm and blues-infused, infectiously buoyant brand of music has carried Vassar throughout his career and remains his specialty in the genre.
"DAV is thrilled to have Phil Vassar celebrate veterans with us," said Rob Lewis, DAV's assistant national director of public relations.
The 1.2 million-member Disabled American Veterans, a non-profit organization founded in 1920 and chartered by the U.S. Congress in 1932, represents this nation's disabled veterans. It is dedicated to a single purpose: Building better lives for our nation's disabled veterans and their families.
EAA Warbirds of America is a non-profit organization and division of EAA dedicated to the preservation of former military aircraft, better known as "warbirds." Since 1964, EAA Warbirds of America has worked to "Keep 'em Flying."
Vassar joins a diverse musical lineup that includes the Steve Miller Band in the Opening Night Concert presented by Ford Motor Company on July 23, Little Texas on July 25, and a pair of "Super Saturday" concerts on July 28 – Da BLOOZE Bros. presented by Ford Motor Company and Boogie Knights presented by Southwest Airlines.
For more information: AirVenture.org
People who read this article also read articles on airparks, airshow, airshows, avgas, aviation fuel, aviation news, aircraft owner, avionics, buy a plane, FAA, fly-in, flying, general aviation, learn to fly, pilots, Light-Sport Aircraft, LSA, and Sport Pilot.