East Coast folks and TV viewers everywhere flocked to watch the Space Shuttles fly into Washington and New York recently. Some Washington friends took the day off. AAA even published safety tips to avoid distraction if you saw a Shuttle overhead while driving. The public was fascinated. So why is our flying now so seemingly passé?
Discovery was the first operational shuttle to retire, symbolizing the end of the landmark program. And despite Enterprise's residence at the Smithsonian National Air & Space Museum Udvar-Hazy Center for years, most in D.C. (or New York, for that matter) had never seen a shuttle aloft in person. Moreover, the spectacle of the shuttle/747 combination was itself a rarity.
Interest was still high as I caught Discovery in its new home at Udvar-Hazy in late April. Small crowds gathered behind a barrier closing off the ground level of the McDonnell Space Hangar. The Shuttle was apparently getting final touches for Space Day events that Saturday, May 5. Despite the restriction, you could still get a good look — especially from the second floor balcony on the gallery's south side.
The attraction is not just that this baby has flown in space, but it shows it! After 39 missions and 365 days circling the globe 5,830 times for 148.2 million miles, the wear-and-tear is there to see. Black discoloration lines the vehicle's sides angling upwards towards the tail, perhaps indicating its deck angle during re-entry. There's plenty of wear on those heat-resistant belly tiles, too – proof positive this wasn't an easy business.
Of course, Discovery was a newsmaker in many ways, for instance by lofting the Hubble Space Telescope in 1990. But human landmarks are also its legacy: The first African-American spacecraft commander, the first female Shuttle pilot and John Glenn's return to space in 1998 at age 77. Technically and in human terms, this Shuttle (and others) do inspire.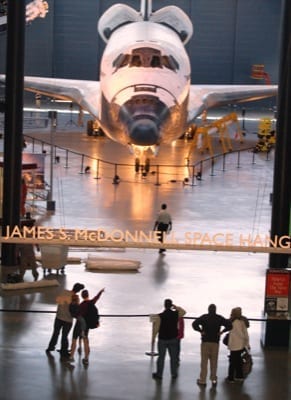 I argued with industry officials, PR execs and marketeers in the early 1980s that the Space Shuttle program could re-light public interest in flying. Why not? First, the thing had wings! This was its greatest characteristic, a huge departure from ballistic re-entry in a capsule. It was maneuverable, in space and on approach. And, it was flown and landed by PILOTS. The industry didn't buy it.
I hope that some young people did make the connection while the Shuttles flew. I wanted them to think of the new horizons any kind of flying offers. And after all, many astronauts are still qualified pilots or learn to fly for the program.
I still recall the young female astronaut who – still new in her NASA T-38 – got herself stuck flying home to West Virginia. They had no air start cart there to get her cranked up the next day and back to Houston. The "crisis" had everyone running like chickens; we mere GA mortals were unable to get any fuel for hours. But it was worth it to listen in on that call to the boss back in Texas. Ouch!
OK, I acknowledge the dynamic. The world moves on to bigger things. We in GA are fully guilty, too. The "Big Boys" today fly bizjets. It's an exclusive, if sometimes snooty, club. Turboprop drivers left the piston crowd behind long ago. The "big" warbird owners poo-poo those who own a mere T-34. ("It's really just a Bonanza," they say.) Don't get me started on the abuse I took for my pride in a little restored L-16, which my friends persisted in calling "The Champ."
But for people who still have open minds and a taste for challenge, adventure and learning, I hope Discovery, Enterprise and the museum-bound others will continue to inspire. By rights, they should. But then, target middle-agers are recession-pressed these days. Younger generations are saddled with limited career prospects and mountainous college debt. Not the economics that creates new pilots, at least not in the short term.
In any case, we pilots could knowledgeably enjoy the Shuttles' momentous aerial extravaganzas. With a little channel surfing, we could chuckle at clueless TV reporters and anchors at a loss to know what would happen next. "Will it land on this pass? Looks like it, er—no." Meanwhile, NASA TV had continual live ATC audio for all to hear the game plan. Couldn't other TV studios listen in? It got a little exciting, too, during the Washington landing when the chase T-38 called "fuel critical" after all that flying around town. Oh well, let's just say we miss Miles O'Brien – the former voice of aeronautical reason on CNN.
Four orbiters in four museums: Sounds like a new, up-close opportunity to inspire and educate those who could join us… not as mere spectators but as active flyers. Any takers?
Drew Steketee was president of BE A PILOT, senior vp-communications for AOPA and executive director of the Partnership for Improved Air Travel. He also headed PR and media relations for Beech, GAMA and the Airport Operators Council International.
Story and photos © 2012 Drew Steketee. All Rights Reserved.
People who read this article also read articles on airparks, airshow, airshows, avgas, aviation fuel, aviation news, aircraft owner, avionics, buy a plane, FAA, fly-in, flying, general aviation, learn to fly, pilots, Light-Sport Aircraft, LSA, and Sport Pilot.