The Experimental Aircraft Association (EAA), American Airlines, and Old Glory Honor Flight, have joined together once again to give World War II veterans the opportunity to visit the powerful memorials dedicated in their honor with an Old Glory Honor Flight departing from EAA AirVenture 2012 on Friday, July 27.
The 60th annual edition of "The World's Greatest Aviation Celebration" will take place July 23-29 at Wittman Regional Airport in Oshkosh. The Old Glory Honor Flight is just one of the attractions, activities and forums as part of "Salute to Veterans Day," presented by Sikorsky Aircraft Corporation, on July 27.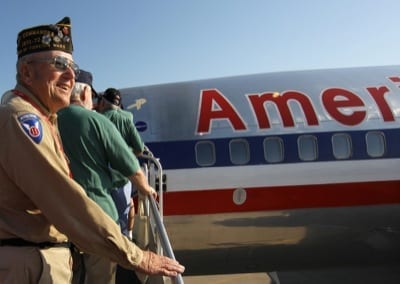 On the morning of Friday, July 27, a special American Airlines yellow-ribbon 737 aircraft, "Flagship Liberty," will fly approximately 80 World War II veterans from the AirVenture grounds to Washington, D.C. After a reception greeting them at Reagan National Airport, the veterans will be taken on a day-long tour of memorials, including the World War II Memorial and Arlington National Cemetery.
"All of us at American Airlines are excited to be a part of this year's EAA AirVenture, and especially to have the opportunity to fly some of our nation's greatest treasures – World War II veterans – to see their memorial in Washington, D.C.," said Captain Jim Palmersheim, Director of Veterans Military Programs for American Airlines. "It is an honor to serve the members of 'The Greatest Generation' who have given so much for this country."
The Old Glory Honor Flight veterans will return to AirVenture on Friday for a scheduled arrival shortly after 6 p.m., when they will be greeted by thousands of AirVenture attendees on Phillips 66 Plaza and receive a welcome home reception that many did not receive more than 60 years ago.
"We at Old Glory Honor Flight live by the motto that it is never too late to say 'thank you,' and we are honored to be conducting our third annual AirVenture Honor Flight in partnership with EAA and American Airlines," said Drew MacDonald, President of Old Glory Honor Flight, Inc. "It is truly a unique and spectacular way of showing our admiration, respect and gratitude for America's military veterans."
The Old Glory Honor Flight, the Northeast Wisconsin hub of the Honor Flight Network, recognizes World War II veterans for sacrifices and achievements by providing a memorable, safe, and rewarding tour of Washington, D.C., memorials at no cost.
For more information: OldGloryHonorFlight.org, EAA.org
People who read this article also read articles on airparks, airshow, airshows, avgas, aviation fuel, aviation news, aircraft owner, avionics, buy a plane, FAA, fly-in, flying, general aviation, learn to fly, pilots, Light-Sport Aircraft, LSA, and Sport Pilot.