Victor Technologies has introduced the Fabricator 211i, a fully integrated MIG-Stick-TIG inverter welding system that weighs 57.3 lbs. and offers the flexibility of using either 115 or 208/230 VAC single-phase primary power, 50 or 60 Hz.
It delivers a welding range of 5 to 150 amps on 115 VAC and 5 to 210 amps on 230 VAC. To switch voltages, connect the 115V/20A power adaptor "pigtail" supplied with the system, company officials explain.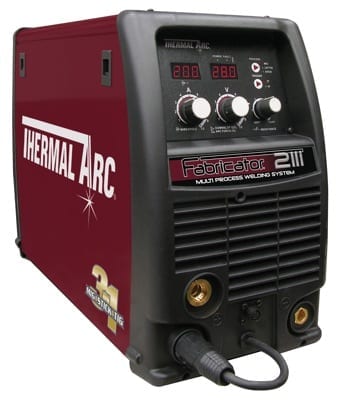 The Fabricator 211i package has an MSRP $1,399 and includes a Tweco MIG gun, Stick electrode holder and work clamp and a Victor regulator. Options include a TIG torch and foot control, a spool gun for MIG aluminum, carts for organization and convenience or a roll cage for protection.
Features include:
Stick Arc Force Control to adjust arc characteristics for all electrodes (including E7018 for structural steel) and a Stick Hot Start function that helps prevent the electrode from sticking.
MIG inductance control, which improves arc stability and reduces spatter.
Wire burn back control, which improves MIG arc starts by eliminating excess wire stick out. It also helps address issues related to the wire burning back into the contact tip or sticking in the weld after releasing the MIG gun trigger.
Lift TIG for arc starts without high frequency and TIG downslope control, which ramps down the current at the end of a TIG weld to eliminate crater formation.
2T and 4T (latch) trigger control, which reduces hand fatigue when MIG or TIG welding.
The Fabricator 211i enables users to choose the best process for the application at hand, company officials said. For example, its MIG and gas-shielded flux cored outputs provide maximum productivity in the shop (including with MIG aluminum). The Stick and self-shielded flux cored processes work better in windy and outdoor conditions, as well as on rusty or dirty metal, while the DC TIG process enables users to weld stainless, copper, nickel, bronze or brass alloys or on applications requiring precise control over heat input and weld bead placement.
For more information: VictorTechnologies.com
People who read this article also read articles on airparks, airshow, airshows, avgas, aviation fuel, aviation news, aircraft owner, avionics, buy a plane, FAA, fly-in, flying, general aviation, learn to fly, pilots, Light-Sport Aircraft, LSA, and Sport Pilot.