What began as a one-time program in 2008 has now become a tradition at EAA AirVenture. WomenVenture is a way to gather like-minded women during AirVenture, exchange information, do some hangar talking, and informally match mentors with mentees.
"WomenVenture has done an incredible job of increasing the visibility of women in Oshkosh," says WAI President Dr. Peggy Chabrian. "We provide a means for women to inspire each other, to have their questions answered and to network in the relaxed atmosphere of AirVenture."
WomenVenture 2012 officially begins Friday, July 29, when Women in Aviation, International will hold its annual Connect Breakfast for members and their friends, again sponsored by DTC Duat, in the Nature Center Pavilion with special guests including a contingent of WASP and Deborah Hersman, NTSB Chair.
After the breakfast, at 10:30 a.m., the annual group photo of female pilots, including student pilots, will take place in ConocoPhillips Plaza.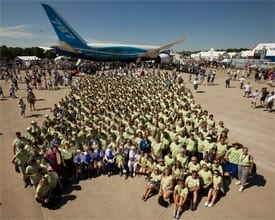 "We think the group photo is the best photo op at AirVenture, but I know we're biased," says Chabrian. "There's such excitement as we gather hundreds of women all in their WomenVenture T-shirts each year. Their enthusiasm is infectious."
In addition, Chabrian will host a daily radio program on EAA Radio. Confirmed guests include Debra Hersman, Chair of the National Transportation Safety Board; Debby-Rihn Harvey, Southwest Airlines pilot, aerobatic champion and chair of the EAA's Women Soar You Soar program; Bee Haydu, WASP; and Audra Hoy, granddaughter of Paul and Audrey Poberezny.
Women in Aviation, International is a nonprofit organization dedicated to providing networking, mentoring and scholarship opportunities for women and men who are striving for challenging and fulfilling careers in the aviation and aerospace industries.
For more information: 937-839-4647 or WAI.org
People who read this article also read articles on airparks, airshow, airshows, avgas, aviation fuel, aviation news, aircraft owner, avionics, buy a plane, FAA, fly-in, flying, general aviation, learn to fly, pilots, Light-Sport Aircraft, LSA, and Sport Pilot.