Mid-Continent Instruments and Avionics announces the addition of Lindsay Koster, CPA, as controller. Koster will be responsible for the company's financial reporting and management of the accounting department.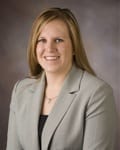 Koster holds a Bachelor of Business Administration and a Master of Accountancy from Kansas State University. Additionally, she is a Certified Public Accountant (CPA) in the State of Kansas. Koster brings a vast knowledge of public and private accounting with particular emphasis in the application of accounting principles, tax rules and IRS regulations.
Koster is a member of the Kansas Society of Certified Public Accounts (KSCPA) and the American Institute of Certified Public Accounts (AICPA).
For more information: mcico.com
People who read this article also read articles on airparks, airshow, airshows, avgas, aviation fuel, aviation news, aircraft owner, avionics, buy a plane, FAA, fly-in, flying, general aviation, learn to fly, pilots, Light-Sport Aircraft, LSA, and Sport Pilot.