By MICHAEL MAGNELL
During the last four years I have ferried 35 planes from various places in the United States just to Brazil alone. Most of the planes were Cessna 210s, 206s, Caravans, and Barons, but number 35, my most recent, turned out to be not only the exception, but also quite an adventure. Number 35 was a 1980 C152 and the smallest and slowest plane I have ever ferried on such a long route. It will be used by the new owner to teach his young son to fly. The C152 is the best little trainer every built, in my opinion.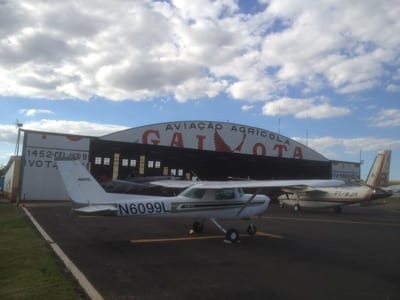 I started out in Texas and went to Florida where a ferry fuel tank was installed inside the 152. On one of my island stops in the Caribbean the starter motor stop working. For the rest of the ferry, I hand propped the plane alone by myself to start it. I did this seven times. Each time I set the parking brake and chocked the left main wheel after priming the engine and setting the throttle for start. I used the chocks as a back up to the parking brake. Good thing, because early one morning I forgot to set the brake. This hand starting procedure went very well though with no problems.
The ferry was plagued by weather throughout the Bahamas. I had to make an unscheduled stop at Spring Point, Acklin, in the Southern Bahamas to give a large area of imbedded T-storms time to pass. After the Bahamas the weather was decent until approximately 100 nm south of Manaus in Northern Brazil. At that point the weather became picture perfect — better than anything I have seen in Brazil — and it remained that way.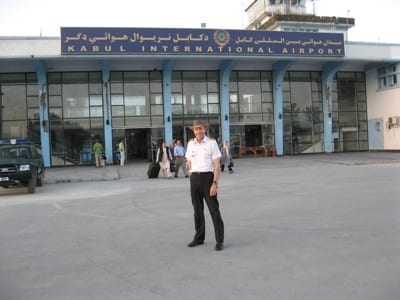 This was primarily a low and slow ferry since the 152 did not have much power to play with, especially with the added ferry fuel I was carrying. The jungle floor south of Manaus is about 1,000 feet msl for a very long distance. Normally I like to have plenty of altitude above the rain forest jungle to give me more time if I have any kind of problem, but this time in this little slow plane I flew around 1,500 to 2,000 feet above the jungle and the view was gorgeous.
While flying slowly along I caught myself staring into the jungle's deep, dense, thick vegetation with its tall vine-covered trees reaching as high as 125 feet stretching for sunlight that they desperately need so much to survive. I felt as if the jungle was sucking me into its unique world like prey. Its beauty was alluring, while causing me to overlook its certain deadliness. I knew quite well if the little engine in the 152 quit I would be in big trouble going down into that unforgiving, treacherous environment. The jungle is full of formidable challenges, such as tigers, snakes, piranhas, and a whole slew of other nasty things. To survive in the jungle one would need a lot of water, bug spray, food — and luck.
I could see large flocks of wild birds flying below me and even an occasional hawk trolling for prey. I aimed to make it my objective to stay off of any hawk's menu.
I passed the many hours of flying by playing a mental game of "what if." What if the engine quit now, where would I try and put this little plane down? I would certainly prefer coming down in water as opposed to trees. Those tall trees are just giant poles sticking up with lots of branches that will tear the plane up and stop it real quick. I was constantly on the look-out for suitable water landing areas. Sometimes they were abundant and other times they were nowhere in sight.
An off-airport landing in a small plane stands a far better chance of turning out good than in a big plane. Can you imagine how horrific it would be if a 747 had to land in the jungle? So I was in the ideal plane, since the C152 is about the smallest of small.
In most jungle areas of South America search and rescue is pretty much non-existent, at least as we know it here in North America. I carry a personal 406 MHz beacon, a GPS spot tracker, and plenty of water and bug spray and health bars while flying on these ferries. Once you leave the jurisdiction of the United States Coast Guard, any SARs operation on these South American ferries may be sketchy at best!
Luckily, in the end, this ferry turned out well and the new owner was very happy to receive his little flight trainer plane.
Michael Magnell, a former Delta Airlines captain with more than 17,000 hours, is founder of Transoceanic Aircraft Ferry.
People who read this article also read articles on airparks, airshow, airshows, avgas, aviation fuel, aviation news, aircraft owner, avionics, buy a plane, FAA, fly-in, flying, general aviation, learn to fly, pilots, Light-Sport Aircraft, LSA, and Sport Pilot.