OSHKOSH — Richard "Van" VanGrunsven's first RV-1 was donated to the EAA at a ceremony on Phillips 66 Plaza on Monday at AirVenture.
"The RV-1 had a tremendous impact on the industry," said Rod Hightower, EAA President. "It and subsequent models became the most successful kit aircraft in the country."

The community of Van's Aircraft fans, Friends of the RV-1, came together for the purpose of finding, buying, restoring, and donating the RV-1 to EAA.
"This was truly a community effort," said Friends of the RV-1's Ernie Butcher. "The Friends of the RV-1 consists of people who's dream came true as a result of Van's Aircraft." Butcher thanked Hightower, Chad Jensen, EAA's Manager of Community, Tom Poberezny, Van, and everyone "who made this happen."
"I wanted an enjoyable, useful and safe airplane," said Van in his typically understated manner. "I kept continually improving the design until I took it as far as I felt I could, then started the RV-3."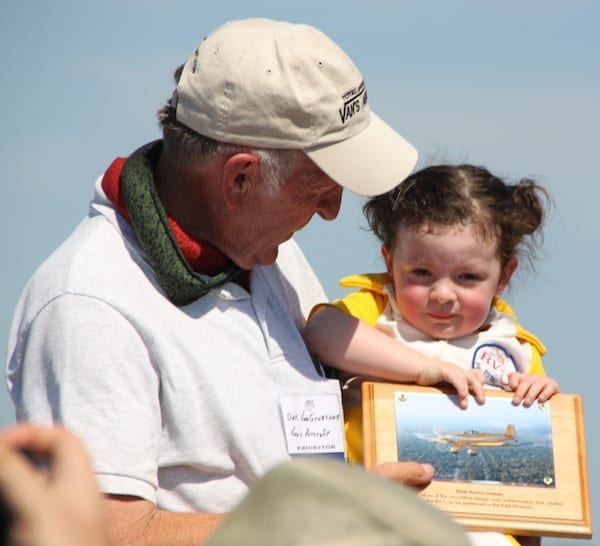 At this point in the ceremony, Van pulled his granddaughter, Lilly, from the audience. She was modeling a flight suit his wife made for their son Greg more than 30 years ago.
Van then handed over the keys, hesitantly, to Hightower. As he did, he mentioned he hopes it remains airworthy so he can come back and fly it.
Hightower grinned, turned to the crowd and said, "This is the key to innovation." To the delight of the crowd, Hightower confirmed the RV-1 will be kept airworthy.