OSHKOSH – The Kit Industry Association, or AKIA, formally organized during AirVenture, in response to the recent NTSB report on accidents involving homebuilt aircraft.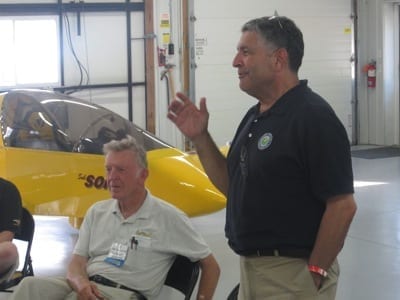 During last week's show, the members of the association agreed on a mission statement: "AKIA's mission is to represent aircraft kit manufacturers, designers, suppliers and supporters with a unified voice in the promotion and safety of the aircraft kit industry."
The initial 14 charter members came together after reviewing the 16 recommendations put forth by the NTSB that focus on the Experimental Amateur Built (EAB) safety record. Those items were discussed earlier this year by EAA and the FAA, but without a single kit manufacturer being present, AKIA officials noted.
"In many respects we've been invisible," said Dick VanGrunsven, president of AKIA and Vans Aircraft. "We don't manufacture aircraft; we make aircraft parts. Our customers buy those parts and they manufacture the aircraft. But we do have a direct link to EAB aircraft and it's time we make our presence known and become pro-active in addressing safety issues.
"There needs to be more attention paid to the first pre-flight, Phase One flight testing and transition training for pilots," he conintued. "The NTSB report made that very clear. The record has to be improved and we believe it can. AKIA expects to be at the table in all future discussions about EAB safety. With general aviation on the NTSB's 10 Most Wanted list, and EAB having the highest percentage of fatalities, we have to get involved. Collectively, we have the knowledge and experience to make a difference in the culture."
The newest contributors to the alphabet soup groups in aviation are moving forward to become a legal entity and to enlist other manufacturers and suppliers who are directly involved in the EAB movement. Their membership list increased from 14 to 20 during their first organizational meeting. The members have been asked to submit a list of goals for the organization, which will lead to a list of projects.
"We have a lot to address in the area of safety," said VanGrunsven. "At the same time we are also eager to engage in programs and projects that will promote the educational and enjoyable aspects of aircraft construction."