By TOM JONES
Many people dream of making the trip of a lifetime, but few make the dream a reality. Not so for Albert and Sharon Gardner, a Yuma, Ariz., couple who flew coast to coast in their RV-10. Last summer, the couple flew nearly 12,000 miles, landing in 100 cities in 37 states.
The trip was the culmination of a longtime desire that Albert had to land his airplane in every contiguous state of the Union. Prior to this trip, he had landed his airplane in every state west of the Mississippi.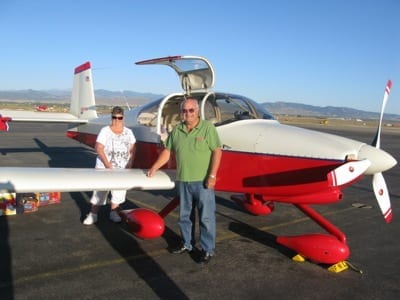 "Sharon and I had talked about the feasibility of taking the time and having the finances to complete my dream," Albert recalled. "We aren't getting any younger, so decided that 2011 was the year for us to complete our 'landing in every state' goal."
The summer journey began before dawn July 20 when Albert and his good friend flew Albert's airplane from Yuma to Vernal, Utah, landing in 13 Utah airports in one day.
"This was just about the most takeoffs and landings that I've ever done in one day," Albert said.
The pair continued onto Oshkosh, Wisconsin, flying to AirVenture, the nation's largest airshow and a Mecca for homebuilt and experimental aviation. "Sleeping in a tent under the wing of the airplane and visiting with other aviation enthusiasts for the duration of the airshow is just about as fun as anything I can think of," Albert said.
At the conclusion of the Oshkosh adventure, Bob returned to Yuma and Sharon met up with Albert to continue the trip east.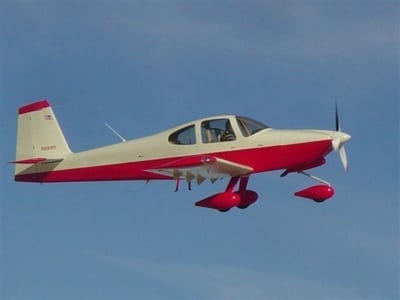 Sharon, vice president of human resources at Yuma Regional Medical Center, used her accrued vacation time to accompany her husband on his dream trip. Over the next five weeks, the couple landed in 100 cities in 37 states.
"While planning the itinerary we were eager to include a flight up the Mississippi River, a flight down along the Hudson River to see how they looked from the air, and to visit with many friends and family," Sharon noted. "We did meet our goal of completing landings in every state in the Union, and concluded the summer trip with flights to several Western States where we had already made landings, primarily to visit with family and friends. We ended up flying from coast to coast and from the Mexican border to Canada — and all the country in between!"
Albert and Sharon moved to Yuma 11 years ago when Sharon accepted an administrative position at the hospital. Albert, an avid pilot who had been interested in aviation for many years, built his first experimental plane, an RV-9A, soon after the move.
"The first plane was great, but before long I had interest in something larger, with more mileage range," he said. "I sold the first plane and began working on my second late in 2005, completing it in October 2008."
"I became acquainted with a great group of men with similar flying interests, and began to see how many landings I could make in the general area," he continued. "Then I started to make more extensive trips, and finally convinced Sharon that flying is truly the 'only way to go.' We have children in Utah and Idaho, and were soon flying to see them, and before long I decided I wanted to land in every state in the union. Now we've done that — to every contiguous state — not to Alaska or Hawaii!"
During the trip, the couple gained a great appreciation not only for the enormity of the United States, but its physical beauty — especially from the air, Sharon said.
"Seeing the confluence of the Mississippi and Ohio Rivers was amazing! The flight following the Hudson River south to New York City past the Statue of Liberty was particularly memorable, as was the view from above and the visit on land to see Michigan's Mackinac Island," she said. "We also gained a greater respect for the climate of Yuma. We faced rain for much of the trip, and are very happy to be back in our Arizona sunshine."
One of the trip's highlights was a visit to Kitty Hawk, on the Outer Banks of North Carolina, site of the Wright Brothers' first flight.
"It is hard to believe that only 108 years have elapsed since man first began to fly in the United States — and now the skies are virtually crisscrossed with winged aircraft," Albert said. "The majority of airline passengers fly in and out of just 46 airports in major cities such as Los Angeles, Chicago or New York, but general aviation pilots have access to almost 20,000 landing facilities, many of them just walking distance from the communities they serve."
Each day Albert and Sharon would map out their desired route, but often changing the route after being airborne, based on changing weather. A lot of the planning involved not only making necessary stops for fuel, but also those all-important restroom breaks.
"We would have no breakfast, and would take only limited bottled water on board," Albert reported. "We'd plan to fly two or three hours at a stretch, at approximately 160 mph — then land to find a restroom and a snack. We generally would not have an actual meal until the day's flying was concluded."
These days, Sharon is back at work and Albert spends a lot of time at the Yuma County Airport, where he is first vice president of the airport authority. He also spends his days comparing notes with other homebuilders and pilots and planning his next flying adventures.
"I like to fly to airports I have not been to before," he said. "I've landed at all the asphalt runways in Arizona and most of of those in Utah and Idaho. I guess I'd better finish up those two states!"