Spotted while walking through the vintage aircraft area at this summer's Oshkosh was a 1947 Navion sporting military colors. Why wasn't it parked in the Warbird area? Because owner Robert Gaines of Nashville wanted to park close to his friends.
During a quick chat at the show, he noted that the Navion's previous owner get the credit for not only the yellow invasion striping, but also the "Jus Buzzng Round" logo on the nose.
"It was painted like this when I bought it, but it's so cool I left it," he explained. "It looks great when it's parked on the grass and it attracts attention at airshows and kids love it."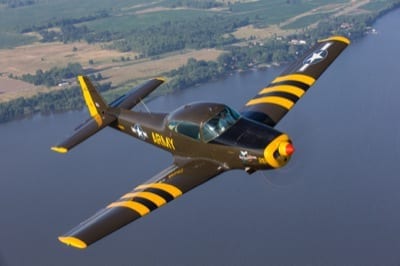 The Navion is a low-wing design created by North American Aviation at the end of World War II. It was produced too late to use in that conflict, but did see some use during Korea and the Cold War.
"As far as I know, my airplane was not flown by the military," said Gaines. "Although some Navions were used by the military as liaison airplanes. I've see a photograph of General Douglas MacArthur climbing out of one of these on the deck of an aircraft carrier."
In 1948 the Ryan Aeronautical Co. acquired the design and built approximately 1,200 airplanes aimed at the civilian market.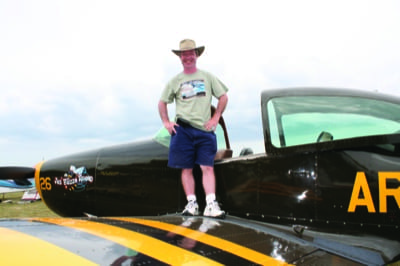 One of its selling points is that the interior of the Navion is particularly spacious, which made it more comfortable on long trips. "You can see how much room you have," Gaines said, gesturing to the cockpit. "Two guys can be up there and not touch elbows."
Sales also were boosted because celebrities, such as actress and pin-up girl Veronica Lake and actors Arthur Godfrey and Mickey Rooney, owned Navions. In fact, the Navion was one of the first post-World War II airplanes to get a cult following. But like so many other designs of that era, the Navion fell victim to an airplane glut on the market and was "orphaned." Over the years, the owners of Navions banded together and began swapping information, technical knowledge, and often sources for parts to keep their airplanes in the air.
Navions are also one of the most modified airplanes on the market, noted Gaines. "It's hard to find an original airplane because of that," he said.
While some pilots become members of a type club to make new friends after they acquire a particular airplane, Gaines made the friends first, and acquired the airplane second.
"It was the sense of community that drew me to the Navion. I got my private pilot ticket about 15 years ago in a Cessna 150, then I went looking for an airplane to buy," he recalled. "I happened to go to a Navion fly-in where there were about 15 to 18 airplanes. People invited me to come fly their airplanes and I liked them, but what really did it for me was the people."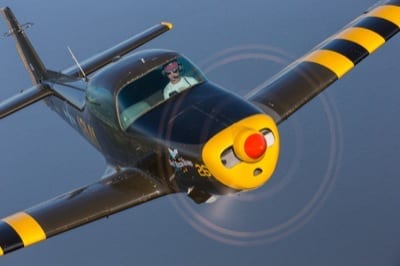 Through networking with the Southern Navion Aircraft Group (SNAG) he was able to find a Navion to buy. The next step was getting an instructor who could provide transition training.
"One of the people I met at the SNAG Navion group was Cecil Austin, an instructor. For my first flight he had me join him on a 30-minute hop to get fuel and let me fly every step of the way," he said. "I spent about 15 hours flying with him. He made sure that I knew all the emergency procedures before he cut me loose."
There was a learning curve, transitioning from the student-friendly, relatively low-powered Cessna 150 to the beefy Navion, according to Gaines.
"It's far more capable than the Cessna 150. I regularly get off the ground in 700 feet," he said. "The useful load is 2,850 pounds. The Navion has a 225-hp engine and will cruise at 150 miles per hour with four people and full fuel. You can't do that in a Cessna 150!"
Despite the considerably higher horsepower, Gaines said the Navion was fairly easy to transition to.
"It is very forgiving," he said. "But the one thing you can't do is get too slow on landing. If you get below 55 to 60 mph you won't have enough airspeed to flare. Other than mismanaging fuel or continue VFR flight into IMC, it's pretty hard to mess up."
The instrument panel is a "hodge-podge of old Narco stuff," he said, noting that while the plane is IFR certified, he is not instrument rated.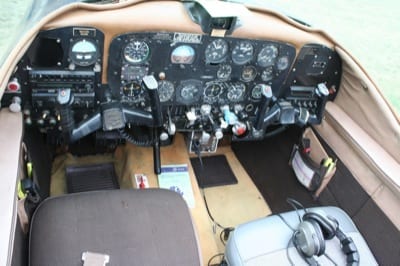 "When I got my private pilot ticket I promised myself that I'd never try to push it," he said. "I promised myself that I would rent a car or spend the night rather than try to get home through the weather."
Gaines added that this year's AirVenture was probably the last time he would be at the show with the Navion.
"After 12 years, it's for sale," he said. "Because I have another Navion."
For more information: GoFlyYourNavion.com